Nice! I dread doing that lol. Only done the 36/36 on an exo
i actually completed 50/50 2 planets. alder and raxxa. i almost did for delta but i dont care for atlasing anymore
GG ! @DKPuncherello there are still 49 to complete you can do it

It is kinda weird not even 5% of players have completed a single atlas. It should be encouraged more by the game. I saw all kinds of cool places and met some nice noobs
A few things that I think would encourage exploration:
auto run (double tap forward or double press L3)
option to float by default on water
make atlases a free handcraft
give a lot more XP for exploring regions; it should be a viable way to gain a few levels an hour, same as mining
Still too much work to find all 50. That's why I haven't done it lol
It's also kind of weird that on playstation, where there was no free weekend and the game has been $40 since launch, only 80% of people have explored A SINGLE REGION lol
Running in Boundless is a contoller killer i already broke my Razer controller R.I.P. Hope the new one have better life. Love the "Auto Run" idea

or push forward 2 times instead of pressing L3
Lol ya I did the 50 regions a week or two ago I think, but I'm a trophy hunter.
I think the reason so few people have discovered even one region is because they're confused about how to do it and you don't necessarily discover a region just by being spawned on your first planet. When I first started playing I thought just passing the boundary of a gray spot on my atlas would discover it. I had to search online to figure out why it wasn't getting discovered. I didn't get that the directions on top were the key and you had to get to the center of the region essentially. Even after you realize that you have to get to the center, it's a little counterintuitive that you have to go the opposite of what the directions up top say. Like if your South if X, you have to go North. It makes sense but it's weird.
Players who don't care enough to google it will have a hard time figuring it out intuitively I think.
On steam its even rarer, which i dont get lol, got it on my 6th day of play


I just explored my start world nearest active portal was almost half a world away at the time.
There's significantly more players on pc. Cause it counts all the ea people till now including the free weekend players that were unlikely to get it
Exploring planets is my #1 favorite non-building activity in game. I'm around 14 complete, including exos. Had some pretty legendary moments I wish I recorded, like grappling an elite cuttletrunk while falling off a high cliff then releasing on the other side of the ravine and continuing to run.
I did a 36 region exo in under an hour without too much effort. Lots of fun.
I stayed almost a year on phem but never cpmpleted all 50 regions, but after a month on tana I completed my first planet.
I can't speak for your friends, but I know a handful of people who have just HUNDREDS of games that they'll never play, or that they'll never play for more than 15 minutes. On PC this only gets worse because of things like the Humble Bundle sales, but there are definitely people out there who content themselves with just the thought of owning games, as opposed to actually playing them.
In the name of SCIENCE, I went through a handful of my favorite games on Steam and looked at the global achievement stats…
For the "giveaway" achievements - things like, "Got The Game To Start", the completion % ranges from a high of 92% all the way down to 44%.
Congrats

think i have 3 or 4 and a few nearly complete by just running around (3 i know for sure

Niia, AntarVI and Lamblis)
So, I decided after a couple of weeks of playing to map Beckon completely, IT TOOK FOREVER because it's Beckon. I didn't map another planet for a bit after that, but now I have a few fully mapped, a couple solely because of Gleambowing lol

I am 46 of 50 on Besevrona and i'm convinced i"m being punked. I don't see any 'gaps' in the atlas. I chased after a 45/50 ??? I stumbled across and I don't see a difference in coverage on the map, just the addition of an icon after.
I can't even tell you the false flags of thinking something was a gap when it's a building…
Just in case, get a fresh atlas (blank) and fill it from the start. When you get an atlas from somewhere else sometimes it has regions filled in. Also keep in mind the atlas only shows you one part of the world (other part is on the other side).
Interesting. Though it is my atlas, an alt used it a few times. I'll try that!!;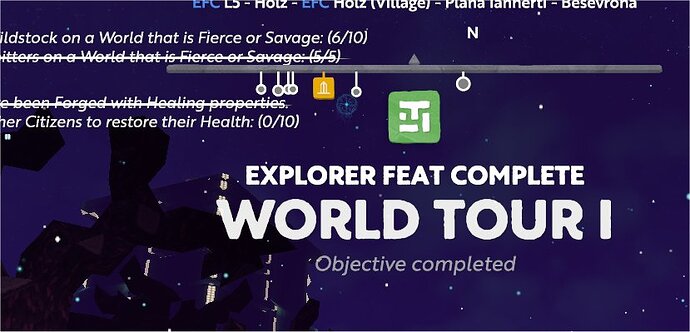 Whaaaahoooooo! Thank you so much! You resolved my issue with that suggestion. I was literally crawling over the map with a magnifying glass. I thought they gave us like 45 but made us work for the last 5, but nope ; ) user error :))))
I dinged a second achievement right after but I fell off the wall I was on and died so didn't see what it was…