Hi…
So this is a long standing headache since farming update, and have had me give up on the game a few times by now… but still maintain portals now n then…
My PC :
Intel(R) Core™ i7-5960X CPU @ 3.00GHz, 3001 Mhz, 8 Core(s), 16 Logical Processor(s)
(Same fps results if I run it at 4.5GHz…)
32gb Ram
1x GPU (removed the 2nd I had)
Current: ASUS GeForce GTX 1660 Ti ROG STRIX OC - 6GB GDDR6 ( ROG-STRIX-GTX1660TI-O6G-GAMING | Gaming graphics-cards|ROG - Republic of Gamers|ROG Global )
Tried: ASUS GTX980 20Y Gold edition ( https://www.asus.com/Graphics-Cards/GOLD20THGTX980P4GD5/ ) (gets me the same fps results… )
Motherboard: Asus Rampage extreme V, BIOS 4101
1440p 144Hz Acer Monitor
It does not matter if I am running low, med or high settings in graphics (1440p), my FPS will bounce down to 8fps if I move quickly forward assisted with speed brews & grapples.
This is for ARIE River Town, a certain part of the town (submitted to James in video months ago) where this gets me the following results:
If I "Walk" (6.1m/s) mostly 58fps, dips to 40fps a couple times.
If I "Run" (11.2m/s) mostly 40fps, dips to 18-25 fps frequently.
If I "Run" + Speed brew 5 (15.2m/s) starts at 40fps~ then goes down to avg of 20fps~ and drops to 13fps frequently.
If I "Run" + Speed brew 5 + hookshot myself forward (reel in 60m/s), then avg fps of 14 mostly, and 8fps as the lowest.
The same is seen on Ultima Eresho, and some other fairly build up locations.
If out in the "wild"… 40-60fps avg
Network Settings:
Chunk download rate: max
Chuch Cacke: 8GB
in the wild: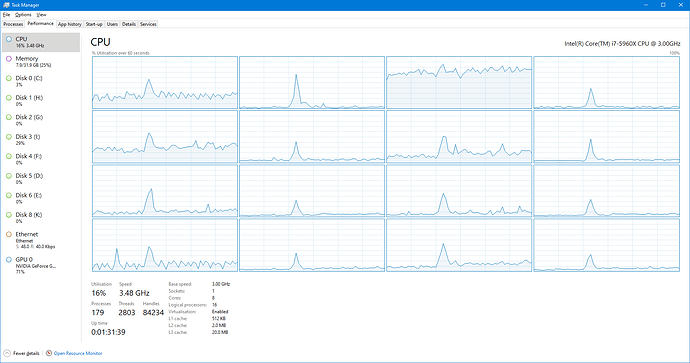 running in town: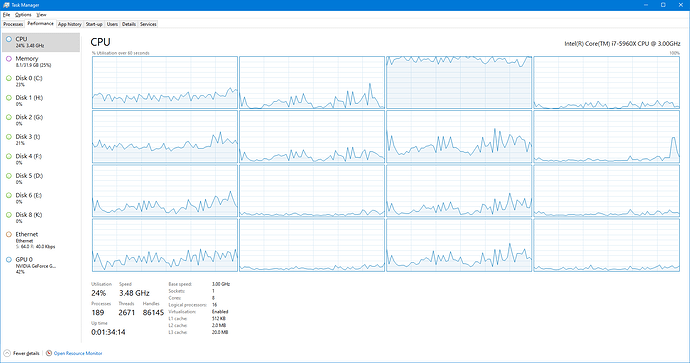 Currently a fresh installed Windows 10 + nvidia drivers + steam + boundless installed… same results I had when it was fully installed pc with 2 gpu's… so now for the joys of setting everything else back up -.-