Wait what happened to your sign?
That's an old picture of the front…
Fronds is Now with updated sign!!!
bump
"Fronds" has been newly rennovated with a fresh look and more convenient layout. (see updated images above)
And Just in time for the holiday!
Get your Reds and Greens from Calc VII-B and Delpha Pers for your holiday build
(we even got that amazingly green silty soil!)
Check us out today, and buy now while supplies last!
MSG me for bulk orders on any base planet color or currently active exo color.
Restocked Delphi Pers mats @ 11.26 10:00 PST
Now with Branch Funnel Fungus!!
Last call on Xindus Purples and Ceruleans. Going into storage tomorrow!
You should build more basements

Lol… I could. But I'm planning a "Fronds Superstore" with more floor space in Kun Lun. So the old ones go into storage in the meantime.
Unless you can convince my neighbors to move at the mall

Hehe I'd hook u up if I could. Told ya to take more space! You could always move a row over and take a 2x6
Well it was my first shop! Didn't know I'd need more space. But I'm ok with it like it is. Until it starts getting more traffic I think it's a good size.
Plus, putting Exo colors in storage raises demand. Might be worth more later on…
Update: 11.27
Xindus has gone into cold storage.
Updated shop with Dalus VI plants! - Come get those shadow cerulean mushrooms!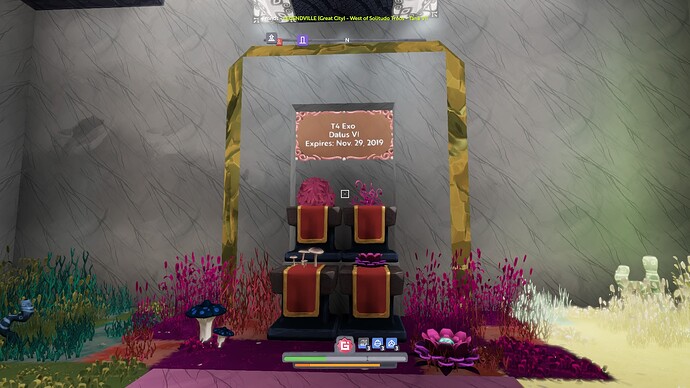 With the new blink exo already out Elerian 6 plants are going into storage tomorrow 11.28.
Last call on the cool/stark tans/greens/whites!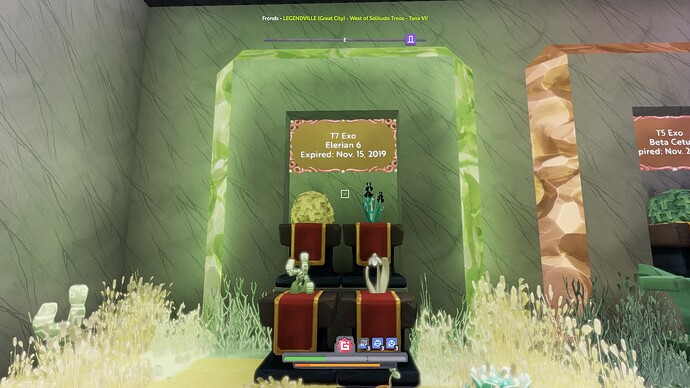 Restocked 12.3.19
Beta Cetus went into cold storage and updated the shop with inventory front he newest exo Xortis I!
Plan on grabbing a bunch of that beautiful shadow red clay soil. So don't miss out!
Restocked 12.15.19
Added plants and foliage from the last few exos:
Nilrebmah 1
Yuga Velo
Laerticor
Dona Reef
May have missed one in there. So many in a short time and I was out for work.
Also set up a portal to Ki'Rin Co. Headquarters! Flagship store is now linked to all subsidiaries and the Gleambow exhchange is open. Buying/Selling gleambow blocks for 100c each.
All gleam is 1000c
"Fronds" DK Mall popup is currently being relocated.
In the meantime, please visit the new Fronds Superstore on Alder for all your exo plant needs!
Fronds @ DKs Mall is now open. Stall D0 (D Zero) near Mesa & Tesla.
Hundreds of plants, fungus, flowers, and foliage currently stocked!
If I'm missing the color you're looking for don't forget to check out the new Fronds Superstore on Alder in K'un Lun! Thousands of rare and Exo plants in stock.
Restocked: 1.26.2020
Added foliage and plants from Danus VIII. Tons of that baby blue and pink available! 100+ bright blue glow caps and magenta funnel fungus!
2.2.2020
Restocked with new exo planet plants Perseph and Sarra II.
Older exo displays moved to basement.
Also, don't forget! If the pop up is out of stock, visit the main store on Alder - Portal in stall D0. Plenty of plants/colors going back to September of 2019.
Restocked 2.4.2020
Added more plants/foliage from recent T7 Exo Sarra II as well as decent supply of all Shedu Tier Colors.
Plenty of Violet Rosetta nox and strong magenta branch funnel now at Fronds pop up and Superstore too!
Restocked 2.9.2020
T7 Balonychus plants added. Hundreds of silk teal funnel fungus and vivid Slate oortian staff.
Added T7 Arramilae flowers, plants, and foliage.
Full SS of dark red gleam also available!