I am not certain if this is intended or a bug. The "Log" Channel that was able to be monitored by the directors and coin keepers of the guild are not displaying as options in the guild chat section: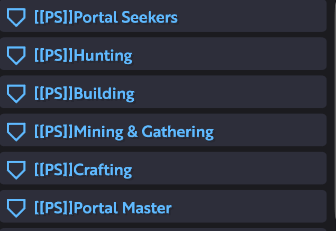 Between each of these guilds was the 'guild log' option. So it would say "Portal Seekers Log" and "Hunting Log". When I clicked on this log it would show activity in that guild as it related to coin transactions/member and it was broken out by faction.
My guild permissions have not changed, I still have "Coin Controller" and all permissions except Director.
I checked in the guild sections, that information is not being presented. It appears the information is now being tracked by 'Notifications" which doesn't say which faction donated the coin:
So this beacon:



Actually donated that coin to Portal Masters, a faction we use to keep track of our Hubs coin.
Without being able to see the way donations come in, it makes it difficult to track coin. We don't have a direct audit for payouts/collections.
Please review this and if the log can be returned by faction that would be very helpful for proper guild coin management.
Thank you