Updated OP with new portal layout. New T3 planets are now connected
I'm keeping a running record of the changes to the universe, for uhhhh posterity. I think, in a year or so, I'll post all the different images so we can see how much has changed. Oh, and Thank you guys for the portal network all you portal seeker guys are awesome!

Our hometown is now a city! The first city since the wipe (please correct me if I'm wrong).

Thanks everyone who made this possible!!

I actually got lost trying to find my way back home, had to come here to figure it out :). i love how you guys are updating portal networks so quickly. Always a surprise to log on and see all changes. I really like idea of that one area with all block types in floor so you can see colors at a glance for that planet.
Updated OP with new map by @AmandaPan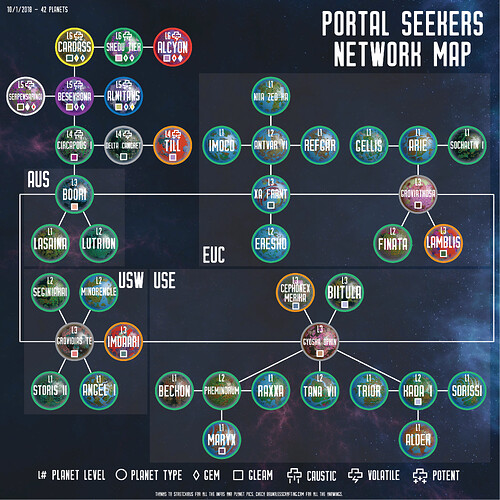 Could I get a portal on serpen for my settlement it's the capitol atm serpen dreadlands is the name. Going to sleep I'll check this thread in morning
I'm back! Join me on the hunt!
T6 Hunt in 3 hours, the meeting place will be Hunters courtyard at Grovidias Te. Join us in vioce on Portal Seekers Discord https://discord.gg/jMg23mM
T6 hunt start in an hour.
Join the hunt now!
T6 Hunt, the meeting place will be Hunters courtyard at Grovidias Te. Join us in vioce on Portal Seekers Discord https://discord.gg/jMg23mM 1
Hunt in 1 hour 40 min, the meeting place will be Hunters courtyard at Grovidias Te. The hunt is on Cardass (potent protection and good slings is amethyst (best) then ruby and emerald ). Join us in vioce on Portal Seekers Discord https://discord.gg/jMg23mM
I could join if its not too late. :)) all i need are som coords