I've been playing a mobility build for the first time cuz of the gleambows. Overall it's a ton of fun, so much so that I may work a lot of these skills into my main build. Here's some things I think could be improved.
High jump feels bad with a high velocity build. Feels like a moon jump instead of a longer jump. I think more of your movement speed should feed into the air control you have over x/z velocity.

Double jump feels bad with high jump. It's like a quarter block of a jump. I think it should be an entire second jump, high jump strength and all. It costs 10 skill points for the two!

These jump feats are going up against one that triples all your damage. They shouldn't have tradeoffs.

Double jump should zero out y velocity before applying. (Or something near this.) If you're falling quick enough, hitting your second jump doesn't even do anything.

The fall armor skill is amazing, if you keep a low HP build. With 5/5 fall armor and 1/9 HP it's basically like you're immune to fall damage. If fall armor scaled like fall damage does, I bet a lot more ppl would put their points into this skill.

Water like… totally sucks. This guy moves as fast in water as my other characters move on land and water still totally sucks. You're slow. You have to hold down the jump button constantly. There's nothing to grapple onto. There's nothing to look at. You can't even pass the time jumping out of the water to the rhythm of your heartbeat. It's like chewing cardboard. I hate it.
Ahhh that felt good. Take that, water.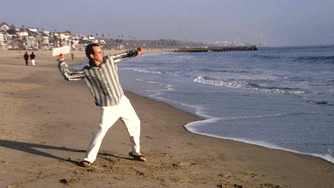 You scrolled past the gif! You are awarded with an idea to improve water.
Add something floating above the water that we can grapple onto and swing off of. I dunno, a floating jellygleam. Make it common enough that water becomes "the grapple minigame". Having to swim means you lose. Grappling from floating jellygleam to floating jellygleam means you're winning. There's no fall damage to worry about so practice with confidence.
Now we have something to do while we are over water. And using grappling hook over terrain becomes "hard mode". Keep training over the water until you're ready, kid.