I may do something about it this weekend but player will need to allow me to visit their worlds.
good job on this.
not gonna change my worlds colours for a bit so peeps can have a go at collecting blocks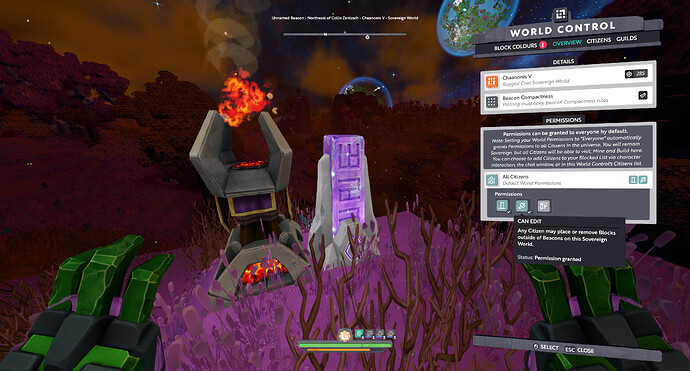 You can only collect blocks once colors are final.
But I think it's a good choice to wait a bit with all the new colors popping up now.
How would we be able to find the planets with gleam colors of personal interest?
Also how would we be able to reach out to owners?
No clue, sorry. I just documented what the world control is showing me

.
night azure…
new colours coming in faster than I'd thought
It's so pretty. I saw it on testing once.
Once they are unlocked, the new colors can be selected by any sovereign world.
So setting them on your own world or on a world of someone you know is also an option.
I think Night Azure looks a lot better than Black Gleam
… based on my experience at DEV-Creative

you and me both

just bought a 2nd world so fingers crossed, eh
Unless it's a metal world, I think the chances of getting white rock are a little more slim
Your resident gleamaholic here. Certain colors on perm planets that have no gleam on them but still have a gleam color are now immediately available
Brand new colors: Ashen Blue, Night Azure, Silk Cerulean, Dark Berry
Previous exo colors now sovereign: Ashen Turquoise, Pale Cerulean, Rust Blue, Dark Cerulean, Dark Turquoise
Hope this helps. I may make a more intensive list that lists all the gleambow colors whether they are Perm, Exo, Sovereign, or Gleambow only. That is if people are interested.
Wow lots of blue


Night Azure is a pretty marble & wood color
Only new block colors I got on my planet are stale berry igneous rocks, and rust fuchsia sand. Everything else is in game already.
New boundless minigame… block color roulette lol. May the odds be ever in your favor.
Good luck to everyone
It's nice that it appears that everyone wins when someone gets a win on this wheel, though.
What planet type and tier gives us best chance for either black gleam or more in demand colors of gleam?
Black gleam is impossible according to devs. But shadow, night, strong, pure colors are the most popular possible rare types that can spawn. Still havent seen a deep color yet.
Every single Strong, Shadow, Night, Pure color has spawned on T5s
Strong Cherry T5 Coal

Night Orange T5 Metal

Night Lilac T5 Coal (wasn't an actual spawn of gleam on the world)

Azure T5 Toxic

Night Fuchsia T5 Toxic (wasn't an actual spawn of gleam on the world)

Shadow Yellow T5 Shock

Not a single color for Pure, Shadow, Night, or Strong has spawn on an exo on anything other than a T5
Shadow Red and Pure Rose were left out because they were custom made exos
Ah that sucks about black gleam, any difference in metal, blast, burn, etc?
Source? (10 chars)
---
According to james:
If this quote still holds true, then I just debunked your claim that black gleam is impossible. Hoping it is the case.