I've been having an issue at a build I'm doing here at the TNT hub, specifically with the Warp Conduits I'm using to build with.
I've found that, while they couldn't connect around corners, it didn't seem too big a deal to me at the time, as I could work around that.
However, I didn't anticipate this connectivity problem;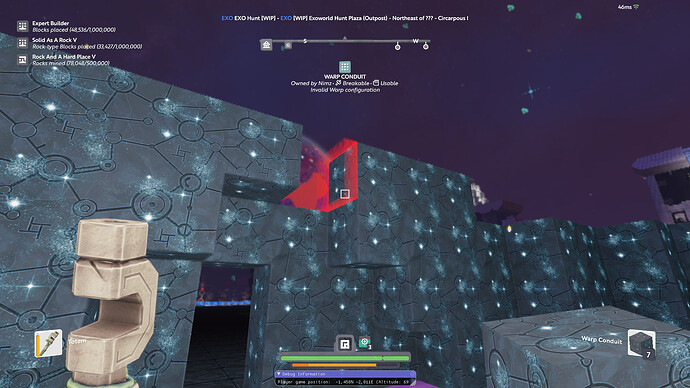 Somehow, these won't connect. It doesn't work to remove one side, and then replace it from the top of the arc instead, as they for some reason simply cease allowing the connection once again.
@james I've seen several mentions of people asking about "Warp Conduit" decorative blocks in the past, but I want to know if such a thing would be feasible in the future, or if there is a much simpler fix for my problem here.
I've got some more of the 'metorite' to build, and I'd be pretty bummed if it ended up not actually being possible in the end, and after the time spent seeking permissions and everything to build at the TNT hub.
Coordinates are in the screenshot, but to save having to zoom in, it's;
Circarpous l, -1456N -2013E Alt: 69
I hope to hear from you soon, and very much hope I won't have to scrap the planned build, if it proves impossible to sort out in any way.