EDIT: It appears the issue is rather that guild prestige and settlement prestige rankings are both being listed under "Top Settlements," rather than fragmenting cities as I discuss here. Thanks @boundmore for the clarifying screenshot. This is still an issue that needs to be addressed in my opinion.
The introduction of guild-aligned beacons has made on-world prestige rankings incorrect by fragmenting prestige that should belong to a single entry. Take the top 5 settlement list for Trior: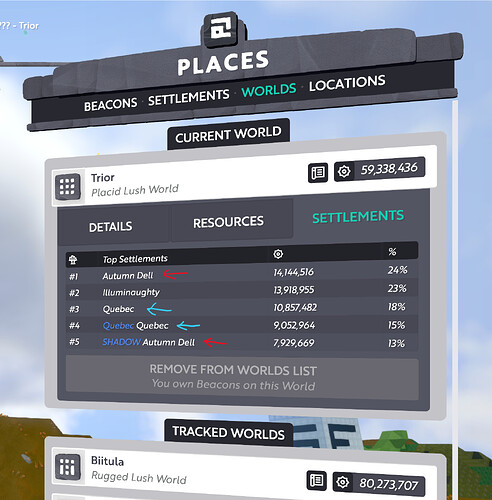 Both Autumn Dell and Quebec are split into 2 separate entries. Quebec's total prestige if alignment was not considered is 19,910,446 - pushing them ahead of Illuminaughty.
There are bigger implications than competitive ranking, though. If Quebec theoretically had another 3 million prestige, it would be the capital city over Autumn Dell if alignment was not considered.
I am not personally involved with either entity, so I can't speak as to whether or not this is just their error for not aligning all their beacons. But I certainly doubt it's by choice, and either way, it makes everyone else's world rank false.
The simplest solution that comes to mind is to simply ignore guild alignment when calculating world ranks. I don't know if this would alter other beacon alignment features, however. Thoughts?