I'm tired of looking for the stuff lol.
I think I can part with 2 smart stacks
You should start using butt

Lots of remnants for sale, though the cheapest are often gone since the data isn't live.
https://butt.boundless.mayumi.fi/#item=ITEM_ANCIENTTECHNOLOGY_FRAGMENT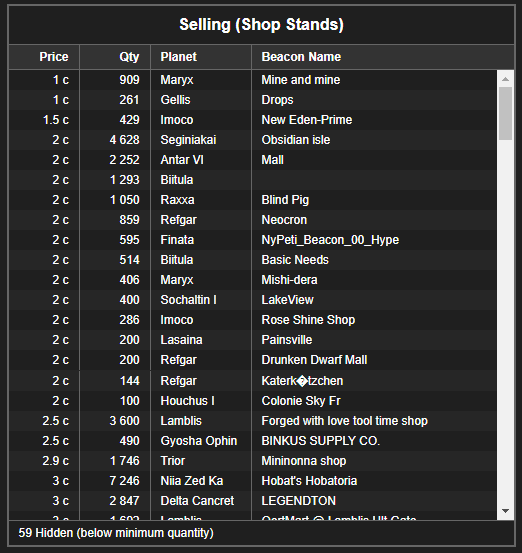 Ooo that's some great deals!
Weird how nobody sells me remnants at my eresho baskets. A flipper could make some coin there

I got 8ss for 3c in your storage box at the megahub bank vault
Let me know if you want it otherwise i will remove from the box.
Same place I left you beacon fuel as you go through the big vault door on the right.
@DKPuncherello
Sounds good


3c for 8ss (of anything) is a killer deal!
Jkjk
whoops i guess i forgot the each!
I'll dig around and see if I can make it 10
10ss ready to collect
I been selling at my shop on Eresho called "little blue shop" let me know when your about will show you where it is

I'm going to open a new shop on Arie River Towns very soon called "Fiestys shop" it's been built just need to stock it

you still need some? I have 10+ss of it, just got done making it all over the last week with 2 exctractors. lol.
How do you make it? You mean essences right?
But anyway I'm good for now, TNT hooked it up.
lol totally read your post wrong. For some reason I thought it said Ancient Essence, cause I had just pulled a whole bunch out of the machine. lol.
ahhh. nice one…
thought it was an mod 4 pc players…
have to go shopping… xd
Only if you want to update prices on the website, you have to use a PC.