Ohh Paka, im so gonna hunt you down now

forges epic bombs muahahah, need some crator creators
I think I'm going to start a general Bounty thread here soon, where others can join in and put prices on their own heads, same rules (only put bounties on yourself, first claimer wins, and all)… have a feeling this could be fun…

@bucfanpaka everyone knows about your evil acts now
What are the purposes of the glow cap mushrooms other than they look pretty? What's glowing lamella even good for?
Gleam lanterns are the thing I use them in, though I sell most. They sell quite well, usually fly off if in the 40-50c range.
You also use glowing lamella to make glow gum used for forging tools that glow.
Didnt we got brown in one of the last exos?
Yeah the mustard one, a few more browns would be good though!
Good to know!! I was wanting to make some too
3500 gleam nice;
But are you gonna rebuild that gleam blob at your base with al that gleam

Inventory last night… kicking myself because once again I had spanners I forgot to drop off.

Should have dropped a couple other things off too. Much of what I farm I'll dole out on my plinths, I sell exo gleam for 10c, but I put it out in smaller quantities to give many people a shot at it.
Anyways, quickest gleam farming I've had.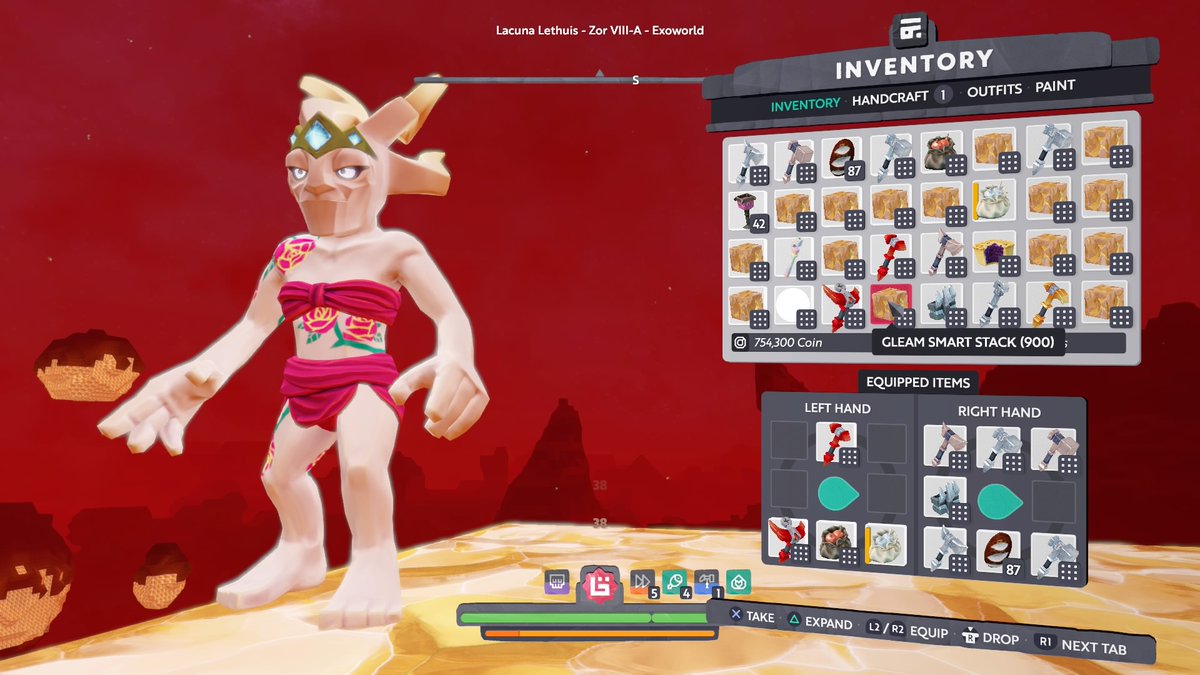 I hope people who annihilate the glowing orbs still toss a regen bomb on it before leaving, else they'll be near impossible to find and regen bomb.
Naaaaahhhhhhh.
Annihilate is not even a thing. I tried for far too long.
Just in case though:
Here;s the sanctum globe showing the norkyna-like formations on one half of the planet and my atlas showing the large spheres on the other.
SO. MUCH. GLEAM.
Why does he look so dead inside?


It was 4 AM after cutting gleam over a lava ocean for a few hours!
This topic was automatically closed 7 days after the last reply. New replies are no longer allowed.