Hi,
So as some know, I have a small army of alts… that now n then make their appearance to be +1 to make the spawned gleambow meteors larger :-p
I found that I could replicate the grapple / chest / menu or ( any interaction really… ) have the same out of sync swaps. the Grapple bounces between a place I was x time ago vs where I aimed. I did that on my main account running full screen on the pc without anything else running.
But only on AUS planets ( thinking anywhere I can hit 200ms or more in latency ) I play from the EU. Can add USW to the list also

but still easier to cause on AUS
Also if I go to Sanctum on that planet and come back, no issue. Not until I have been through some portals and come back.
I then started to boot up some virtual machines to try and log alts, and none of them showed the issue ( ran all the same spot on AUS )
then started to swap 2 of the alts out with my main account and my crafter account, which are the "oldest" I have with lots of guild memberships, beacons, friends etc etc… which none of the other accounts have.
And the only 2 accounts I can make the issue happen on is the first 2 mentioned, the grapple starts bouncing around, it was the easiest visual clue to replicate.
Alts of the main account + 2nd can also show the issue. ( but much much harder to replicate… some I hardly ever succeeded in making it show)
It can be reproduced 99% of the time on my main char and 2nd accounts main, the only diff I have seen towards it not occuring would be slow initial movement… but I think that is more random timing than anything.
The major difference between the accounts would be the age of them, the friends, beacons, guilds they are members of.
a gif snip of it: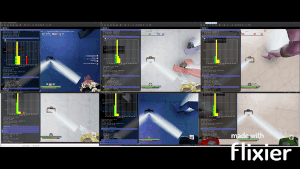 Client 2 display the issue at 2:32 into the video
Client 1 display the issue at 3:10 into the video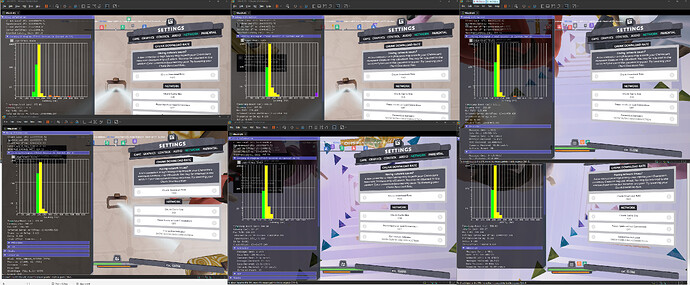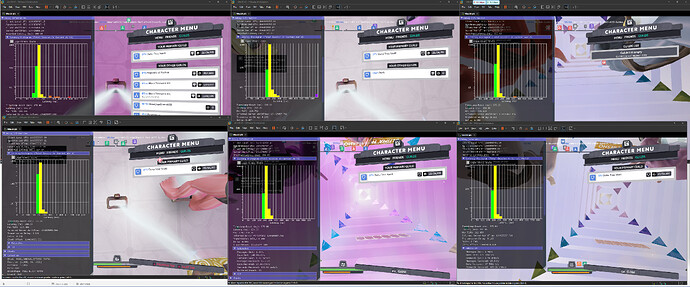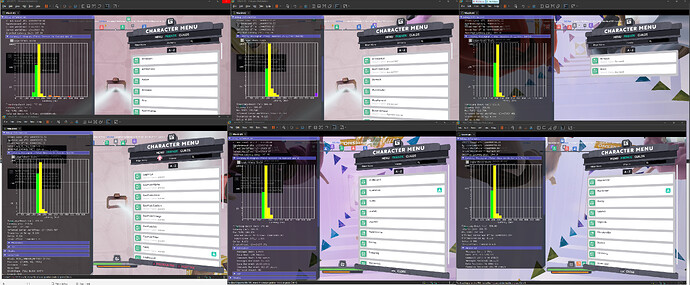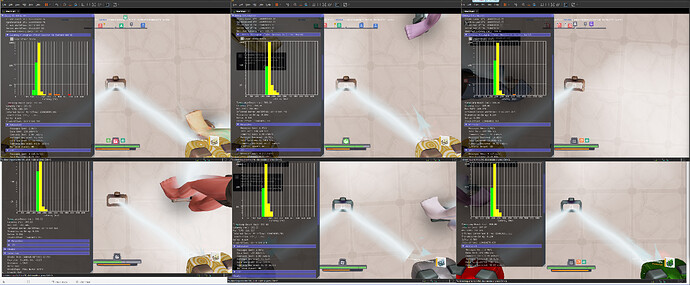 The 2 clients with the bouncing, also appear at the location where their grapple bounces to for other client
Random shot in the dark… too much information being synced on the side or trying to, which brings client / server out of sync…
But I would rule out the hardware / internet etc… as it appears to be account related
Guilds my main account is in:
Deku Tree Vault
Republic of pathos
Blockthrowers inc.
Blockthrowers inc. faction
NewCharDemoUSE
Nevermore
River Towns Guild ( bet we are all connected to Darth… )
test0001
test0003
Ultima Guild Network
Ultima
BaelZharons People
TestNonGc
test0004
test0005
Addon:
Found 1 alt on my main account with no guild afflictions… no issues so far… and loads a bit faster on portal transitions.