HI everyone!
So

Twisted Dragon

is open for new guild members, public mining and meteorite hunting!
You can find us via the TNT Mega Hub Sovereign Portal Section with the

Twisted Dragon

sign.
We would like to invite those without a guild or those seeking a new active guild to join, to come and sign up. We welcome experienced and new players alike. We are very helpful and believe in working together helping one another where and when we can. We want to build and cultivate a very active guild.
We have a 6km Sovereign Dracones Mundi that you can access through the Twisted Dragon portal under Sovereigns Portal section of TNT Mega Hub! We are looking for builders and those who like to design within a theme. We are going for dragons, fantasy and mythological types of designs on our guild Sovereign. So if this is your style then we are the guild for you.
We are looking to gain enough members that like doing various different things to create factions within the guild.
WHAT WE ARE PLANNING
We are building a guild city around the hub on Dracones Mundi with builds that can serve as your main base or lead to larger main base you have built somewhere else on the planet.
We will have a tree top guild mall as well where each member of the guild is encouraged to open a shop! This will be a work in progress. But our goal is that eventually everyone will sell here at the guild mall to make it easier for visitors to find what they are looking for. But you are free to sell anywhere on the planet.
Everyone will be allowed one portal at the guild portal hub.
Guild only T6 Exo! We will randomly generate new colors every cycle. We will take input from guild members on colors to be randomly selected each cycle.
We will have frequent guild only scavenger events and guild hunts on the Exo, as well as community wide scavenger events and hunts on the Sovereign. We will also eventually have labyrinths as well with rewards at the end. So much more to come than this and we will update the community as these come to fruition and plans get made and completed.
We have Voice chat on a boosted discord server -> https://discord.gg/RCfvC4M .
We also will have a guild website with various tools to help with the game eventually for guild members and the community.
RULES
These are mostly common sense rules but we believe in managing expectations and so the rules below are for all guild the members sake and to keep what would be a potential unruly situations with Sovereigns at bay! They are also here to establish acceptable interaction within the guild.
MEMBERSHIP
1. You must have your current guild set to Twisted Dragon.
2. Your Beacons must be aligned to the guild.
3. You may sell on the planet
4. Prices must be fair and be verifiable as fair prices on butt. We do not want to be known for over
charging people. This makes the guild look bad.
BUILDING RULES
1. In the confines of the guild city you must get permission to plot. This must be adhered to so all guildies have space to build within the city. Same goes for mall space. If you want a larger build there are 63 other regions to choose from just be kind. NO plotting an entire region, plot what you need and what you will use. No plotting resources either!
2. If you are going to build a monument/statue or any other large scale art project(which we heavily encourage) anywhere on the planet it needs to be approved by the leader of the builders faction or one of the 2 guild masters myself or @SClayton .
3. ABSOLUTELY NO all gleam builds, platforms in the air, or flashing LED signs in the overworld. You can have them inside your builds inside or attached to the front door BUT NOT IN THE SKY. Any violation of this will have the plots in violation force reclaimed without warning.
EDICATE
1. We are an adult guild and therefore language is not filtered or monitored, however being mean, racist, sexist, homophobic or any other hate will NOT be tolerated.
2. NO drama or stirring the pot. We will not tolerate rumor mills or spreading gossip and lies about others whether in the guild or not.
Failure to follow the above rules will result in 3 warnings and then you will be kicked from the guild and your plots force reclaimed. This is not to be mean or controlling however we run guild buffs which take endeavor and coin. Also all guild members deserve to have access to space in the guild city, guild mall, while feeling welcome and included in the guild and treated respectfully.
if you have any questions PM me @DragonTamer or @SClayton here on the forums.
Remember To Be Boundless!


Twisted Dragon

[Dracones Mundi] --[T4 - Inhospitable Lush Sovereign World]-- [Active]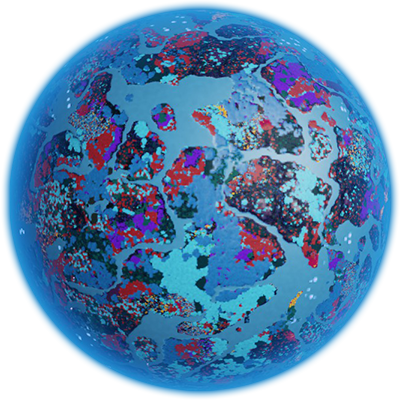 -------------------[Sovereign Details]-------------------


Owner : @DragonTamer


Permissions :

Visit |

Edit |

Claim (Guild Members Only)
--------------------[

World Details]--------------------


ID : 559


Name : Dracones Mundi


Type : Lush


Tier : Inhospitable (4)


Atmosphere : Lvl 1 Caustic (1 level)


Size : 6km (64 Regions)


Liquid : ▲ Water | ▼ Water


Region : US East
------------------[

Distance Details]------------------


1 blinksecs from Delta Cancret


Warp Cost : 100c


Portals : TNT Megahub Sovereign
---------------------[

Time Details]---------------------


Appeared September 19, 2020 11:22 AM


Last until October 19, 2020 11:22 AM


Will Renew :


-------------------------------------------------------------------
Current Blocks Colors

-------------------------------------------------------------------
: Obtained on Homeworld (clickable)
-------------------------------------------------------------------

∟ - Gleam - 122 Blue

[Rock]
∟ - Igneous - 2 Night Azure
∟ - Metamorphic - 246 Dark Blue -
∟ - Sedimentary - 247 Night Blue

[Wood]
∟ - Ancient Trunk - 54 Silk Teal -
∟ - Lustrous Trunk - 246 Dark Blue
∟ - Twisted Trunk - 209 Vivid Cerulean

[Foliage]
∟ - Exotic - 25 Hot Cherry
∟ - Lush - 210 Cerulean -
∟ - Waxy - 155 Bright Azure

[Soil]
∟ - Clay - 241 Strong Turquoise -
∟ - Peaty - 5 Dark Cobalt -
∟ - Silty - 210 Cerulean -
∟ - Mud - 2 Night Azure
∟ - Ash - 71 Deep Fuchsia -
∟ - Gravel - 4 Dark Cerulean -
∟ - Sand - 141 Bright Mustard

[Grass]
∟ - Barbed - 66 Deep Lavender -
∟ - Gnarled - 55 Deep Turquoise -
∟ - Verdant - 240 Strong Slate

[Misc]
∟ - Growth - 218 Vivid Green -
∟ - Ice - 154 Bright Slate -
∟ - Glacier - 8 Dark Lilac
∟ - Mould - 8 Dark Lilac
∟ - Sponge - 47 Dark Turquoise
∟ - Tangle - 69 Hot Magenta -
∟ - Thorns - 247 Night Blue -

[Flower]
∟ - Cloneflower - 3 Shadow Cerulean
∟ - Gladeflower - 58 Deep Cerulean
∟ - Ghostflower - 209 Vivid Cerulean
∟ - Spineflower - 248 Shadow Blue

[Plant]
∟ - Desert Sword - 155 Bright Azure
∟ - Oortian'S Staff - 248 Shadow Blue
∟ - Rosetta Nox - 58 Deep Cerulean
∟ - Spineback - 239 Strong Azure
∟ - Stardrop - 203 Light Turquoise -
∟ - Traveller'S Perch - 216 Vivid Viridian
∟ - Trumpet Root - 233 Cobalt
∟ - Twisted Aloba - 24 Deep Red -

[Fungus]
∟ - Branch Funnel - 47 Dark Turquoise -
∟ - Clustered Tongue - 56 Deep Slate
∟ - Glow Cap - 88 Teal
∟ - Mottled Tar Spot - 248 Shadow Blue
∟ - Tinted-Burst - 235 Deep Blue
∟ - Weeping Waxcap - 8 Dark Lilac -
-------------------------------------------------------------------
Initial Resources

------------[Embedded World Resources]------------

| Rank | Resource Name | Absolute Count | Percentage | Average Per Chunk |
| --- | --- | --- | --- | --- |
| 1 | Soft Coal | 34,696,736 | 32.52% | 90356.08 |
| 2 | Iron Ore | 28,316,449 | 26.54% | 73740.75 |
| 3 | Copper Ore | 16,374,825 | 15.34% | 42642.77 |
| 4 | Medium Coal | 8,856,747 | 8.30% | 23064.45 |
| 5 | Ancient Tech Remnant | 4,917,596 | 4.61% | 12806.24 |
| 6 | Medium Fossil | 4,423,730 | 4.15% | 11520.13 |
| 7 | Small Fossil | 3,122,515 | 2.93% | 8131.55 |
| 8 | Ancient Tech Component | 2,435,072 | 2.28% | 6341.33 |
| 9 | Silver Ore | 2,421,784 | 2.27% | 6306.73 |
| 10 | Gold Ore | 1,144,795 | 1.07% | 2981.24 |

--------------[Surface World Resources]--------------

| Rank | Resource Name | Absolute Count | Percentage | Average Per Chunk |
| --- | --- | --- | --- | --- |
| 1 | Tuber Plant | 133,145 | 22.24% | 346.73 |
| 2 | Glossy Starberry Vine | 70,454 | 11.77% | 183.47 |
| 3 | Basic Boulder | 64,468 | 10.77% | 167.89 |
| 4 | Exotic Tuber Plant | 36,896 | 6.16% | 96.08 |
| 5 | Twisted Aloba | 36,387 | 6.08% | 94.76 |
| 6 | Beanstalk Boulder | 34,882 | 5.83% | 90.84 |
| 7 | Desert Sword | 29,947 | 5.00% | 77.99 |
| 8 | Boulder Tower | 20,882 | 3.49% | 54.380208333333336 |
| 9 | Starberry Vine | 20,615 | 3.44% | 53.684895833333336 |
| 10 | Kranut Plant | 20,479 | 3.42% | 53.330729166666664 |
| 11 | Waxy Tuber Plant | 17,117 | 2.86% | 44.575520833333336 |
| 12 | Mottled Tar Spot Fungus | 16,548 | 2.76% | 43.09375 |
| 13 | Oorum Wheat | 15,606 | 2.61% | 40.640625 |
| 14 | Tinted-Burst Fungus | 15,452 | 2.58% | 40.239583333333336 |
| 15 | Rosetta Nox | 15,438 | 2.58% | 40.203125 |
| 16 | Oortian Rice | 15,412 | 2.57% | 40.135416666666664 |
| 17 | Ancient Oat | 14,223 | 2.38% | 37.0390625 |
| 18 | Oortian's Staff | 8,426 | 1.41% | 21.942708333333332 |
| 19 | Tapered Boulder | 6,190 | 1.03% | 16.119791666666668 |
| 20 | Juicy Starberry Vine | 3,482 | 0.58% | 9.067708333333334 |
| 21 | Spineback Plant | 2,514 | 0.42% | 6.546875 |