Just made it for myself. Its an enviroment for macros named AHK i use it for many games. This macros fits only for the standart keyboards with full numpad keys and arrows. You can turn it on or off with "F8" key he'll beep for you. Here is a scheme: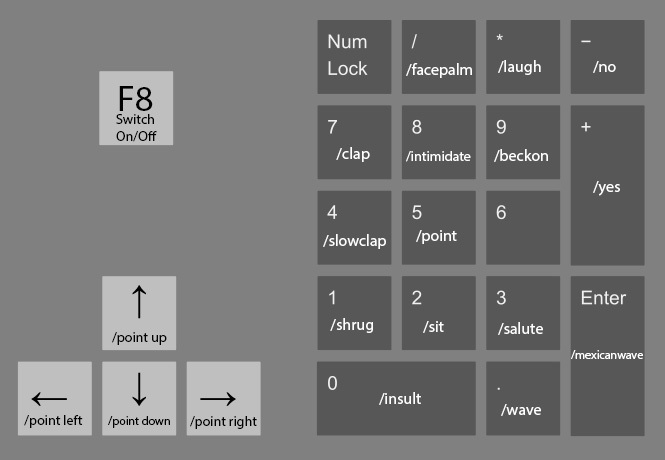 if it wount work in game just minimize the game and restart macros in his tray menu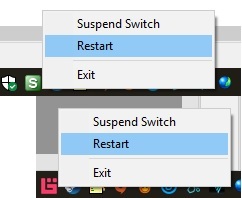 you can see two state of macros: fiirst is "off" and the second is "on"
I compiled it to the little .exe file Boundless Emotes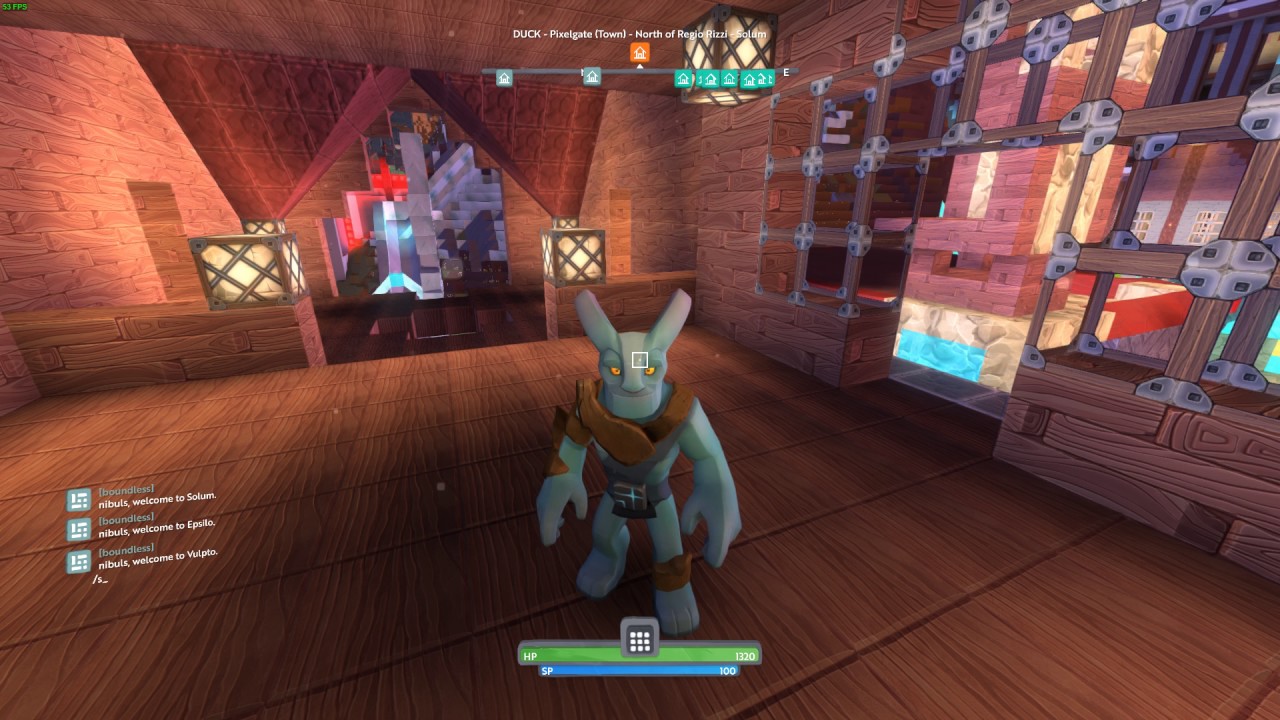 This is the simple sequence of actions, it sends the full text of the emotion to the chat and presses "Enter"
WARNING, it blocks the keys that it uses, if you want to use these keys: arrows, numpad do not forget to turn it off before. It blocks these keys only when the Boubdless.exe is active window.
it is raw but it works without any issues. Because he's very simple.
source code

#NoEnv
SetWorkingDir %A_ScriptDir% 
;#IfWinActive ahk_class TurbulenzEngineWindowClass
;#IfWinActive ahk_class TurbulenzWindowClass
#IfWinActive ahk_exe boundless.exe

macrosState = 0
Suspend, On

IntMenuDelay := 120
KeySendDelay := 25
KeyPressDuration := 5
setkeydelay, KeySendDelay, KeyPressDuration

Menu, Tray, NoStandard
Menu, Tray, Tip, Boundless | Emote Keys
Menu, Tray, Add, Suspend Switch, BSuspend
Menu, Tray, Add, Restart, BRestart
Menu, Tray, Add
Menu, Tray, Add, Exit, BExit
return

F8::
BSuspend:
Suspend, Off
if (macrosState == 0)
{

	macrosState = 1
	SoundBeep 500, 130
	SoundBeep 500, 130
	SoundBeep 500, 130
	;SoundBeep 100, 200
	;SoundBeep 500, 130
	;SoundBeep 500, 130
}
else
{
	Suspend, On
	macrosState = 0
	SoundBeep 100, 130
	SoundBeep 100, 130
	SoundBeep 100, 130
	;SoundBeep 500, 200
	;SoundBeep 100, 130
	;SoundBeep 100, 130
}
return

NumpadEnter::
Sendraw /mexicanwave
Send {enter}
Sleep, 50
return

NumpadDot::
Sendraw /wave
Send {enter}
Sleep, 50
return

Numpad3::
Sendraw /salute
Send {enter}
Sleep, 50
return

Numpad2::
Sendraw /sit
Send {enter}
Sleep, 50
return

Numpad0::
Sendraw /insult
Send {enter}
Sleep, 50
return

NumpadAdd::
Sendraw /yes
Send {enter}
Sleep, 50
return

NumpadSub::
Sendraw /no
Send {enter}
Sleep, 50
return

NumpadMult::
Sendraw /laugh
Send {enter}
Sleep, 50
return

Numpad5::
Sendraw /point
Send {enter}
Sleep, 50
return

Up::
Sendraw /point up
Send {enter}
Sleep, 50
return

Down::
Sendraw /point down
Send {enter}
Sleep, 50
return

Left::
Sendraw /point left
Send {enter}
Sleep, 50
return

Right::
Sendraw /point right
Send {enter}
Sleep, 50
return

Numpad1::
Sendraw /shrug
Send {enter}
Sleep, 50
return

NumpadDiv::
Sendraw /facepalm
Send {enter}
Sleep, 50
return

Numpad7::
Sendraw /clap
Send {enter}
Sleep, 50
return

Numpad4::
Sendraw /slowclap
Send {enter}
Sleep, 50
return

Numpad9::
Sendraw /beckon
Send {enter}
Sleep, 50
return

Numpad8::
Sendraw /intimidate
Send {enter}
Sleep, 50
return

BRestart:
Reload
return

BExit:
ExitApp