complete
thank you
(20 charac)
I'm stuck at work for the next few days but if I get a chance to hop online at all I'll check which colours I have spares of for you. Otherwise I'll check when I'm finished at work this weekend sometime.
Hey, you still looking for foliage? If so I'll go thru my collection when I get online in a bit and see if we can't finish it off.

yes I miss 28 colors. You can send me a message if you want to exchange colors

list up to date, there are more colors available but I miss 24 colors now
I'll check what I have and send you a PM here in a bit.
missing now only one color (shadow orange)
Thank you @wakeNbake
Hello
I'm also looking after foliages. We can trade or I can buy for a good price. Thank you.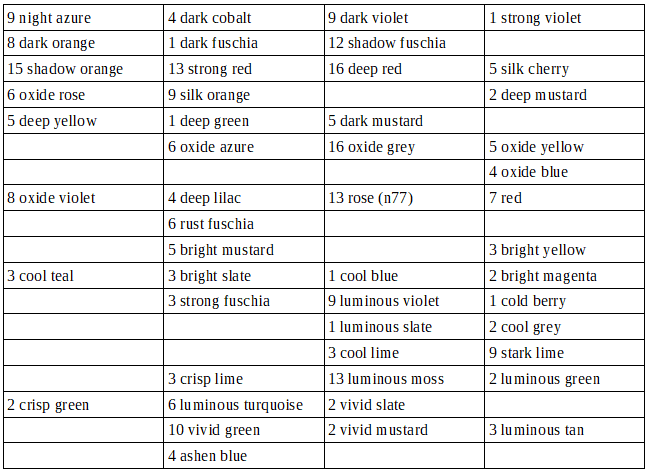 Probablement que je pourrais t'en donner, j'vais regarder d'ici demain @Dupix
Oki merci l'ami

Uptdated list. Big thank you to @Greenheart

go to this place you will find some @Dupix
Dzassak portal seeker
807N 1219E alt 77