While everyone believes we start in the Sanctum, I guess the following evidence proves otherwise. Oortians grow on trees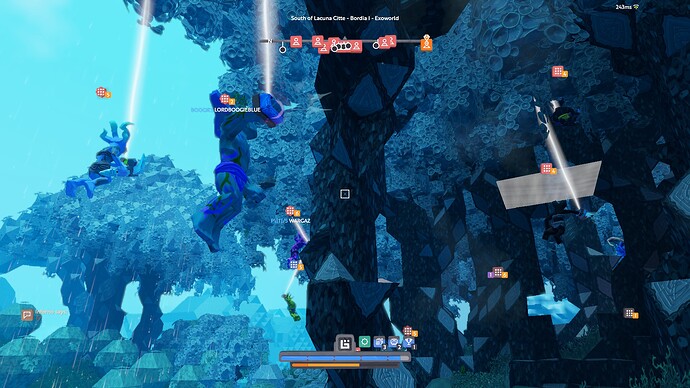 The Ancient Oortians lived off Yams and Starberries. Oort was only recognized as a mystical rock from the heavens… Unattainable as it was gaurded by the fierce groundborn wildstock.
(This game can be played by adding one sentence at a time of Lore)
Curious as all creatures and partially pushed by greed for more power, the Ancient Oortians teamed up and fought off the defending wildstocks. The shimmering Oort was in their hands now. This signified the birth of a new dawn.
With the taste of Viscous blood and lean meat on their tongues, Violent Oortians such as @catfud began to hit things, and they were good at it. These wayfarers began to hit everything with their totems to discover the riches of the ground…
Bob believed all those riches belonged to him - and him only. It was so ingrained in him that he yelled it constantly as a form of self-motivation while mining.
Bob was so angry and greedy he combined his surface treasures and mining treasures into a machine that allowed him to make totems that hit more than one block at a time. Storis II used to look like Malurialakrib.
Soon, greed spread and entire communities were after precious metals and gems. The Oortian knowledge developed immensely. Entire valleys were now dug out in a day rather than months.
With troves of oortians ravashing the land the planet was stripped of all materials and the Oortians were left in withdrawal. They need new sources of Oort and Starberries…
we should write some lore books for this game.
Realizing their grave mistakes, the Oortians knew they had to find new sources of food soon and that they better cooperate. It has, now, become clear to them that Bob was the source of all evil.
But with Bob's ever relentlessness they could not leave bob behind for Bob was the master miner and forager so they couldn't just leave him and be able to survive.
Bob raised his destructive hammer after demolishing a mountain thousands of gems and precious metals in his backpack. @RedY3 and Bob's eyes met and Bob whispers…smoochie smoochie. Then showed his fellow oortians with his riches! Bob is not evil! Bob is for the people…Bob does not wish for sheep!
But Bob is not graceful so showering the oortains with gems killed hundreds and now he was the merciless weapon wielding psychopath they all knew. So they mysteriously vanished thru a portal to the Titans home world never to be seen again. But young citizens if you watch closely or maybe listen a little harder you may still see or hear Bob mining or killing.
You can still hear Bob whispering with every swing of the hammer… Sacrifices are necessary… Sacrifices are necessary!
And that young readers and travels are why meteors rain down upon us. For titans are trying to finish Bob as quickly and quietly as they can. To save us of the horrors to come
The legend has it that the world knew peace and stability before Bob arrived. How or why or where from is not known but it is said that when the apocalypse (wipe) happened, there happened a rift in the fabric that makes up the universe and Bob came through it.