Greetings Citizens
We loved sharing this event with you earlier in the year, so I'm delighted to reveal that towards the end of this month Gleambow Racing will be returning to Boundless!
For those who weren't around for the last instance, Gleambow Racing involves certain special Meteorite strikes, identifiable via their multicoloured trails. When one of these strikes (on a level 3+ World), players will want to hurry to the impact site.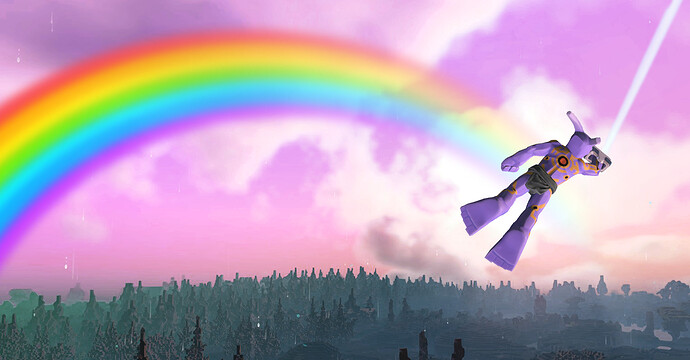 The Meteorites are made of randomised base Materials, in randomised colours, some which may never have been seen in the Boundless Universe before! Upon reaching the Meteorite, 50% of these Blocks must be destroyed within the given time limit, using the special Gleambow Totem (crafted at a Workbench from an Elemental Fusion Core and a regular Totem). If this is not achieved, all Blocks will default to the World's existing colours. The reward for a completed Meteorite will be Rough Oortstone and Gold Ore, as well as the abundance of Materials harvested from the Gleambow Meteorite itself.
The Rough Oortstone and Gold Ore will still be distributed equally, but anything you claim from the Gleambow Meteorite itself will be yours to keep.
So to recap;
Special Gleambow Meteorites will appear on Level 3+ Worlds
These are made of randomly-coloured blocks of random base Materials, and a scattering of Gleam
50% of the Blocks must be destroyed within the time limit to ensure the rewards
Gleambow Totems must be used
This time around, at the start of the event we'll also be releasing a brand new line of Gleam Storage items in Plain, Stylish and Ornate variants for you to keep all your shiny new Gleambow rewards in. These will still be available to be crafted after the event ends. New for this version of the event, Gleambow Meteorites may now also be made of Glass, and we're going to be adding two awesome new cosmetics to the Exchange to go along with the ever-popular Gleamicorn Horn from last time.
The event will run from 1200GMT on Thursday the 28th November, until the same time on Tuesday the 10th December.
Cheers all, see you at the end of the Gleambow…