Awwww they are so sweet

Been down with the flu for the past few days, as per usual for the shifting seasons up here in the north.

Nothing serious or anything, but definitely something preventing me from properly continuing the projects I'm working on in the game right now.
At least the cats are fantastic company. Here's Mille, one of the young twin sisters we've got, sleeping at the foot of my bed with me.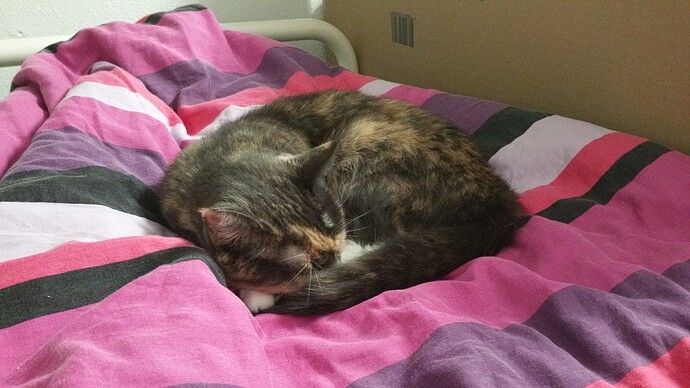 Hope you feel better soon! And what a precious kitty!

I'm pretty down at the moment, but my kitties ALWAYS make me feel better.

Same. Our four kitties here make everything so much better to deal with. Depression, anxiety or Stress pipe up? Snuggle with the cats for a little, and I feel a lot better.
So soft, so caring.
Our oldest, Cookie, almost always comes to me when I'm upset, and paws at me to get me to calm down, while also bumping her head at me.
She is such a good girl.
Loving the animal pics, I have 3 cats and a dog and the universe refuses to let me take a pic of all of them together. But here's my two youngest Luna petunia and willow! Hope everyone has a good day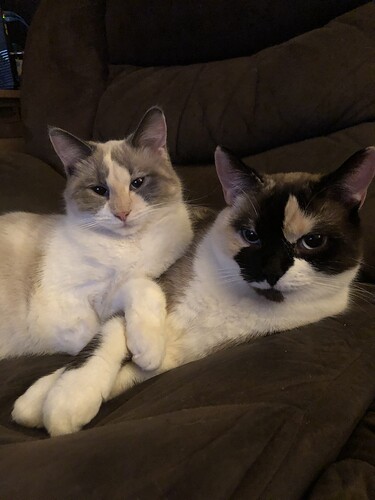 Too precious, @Ocfos and @Kaplah!

Seeing cute cats and dogs always makes me feel better.

Got a bunch of pics of my own babies here -

Currently at work in the cafe, planning out my island project.
Lots of planning and rubbing out but I unknowingly brushed some rubber remnants into my coffee and drank them… Hope they dont make their way to my brain and rub out my ideas before I can get them on paper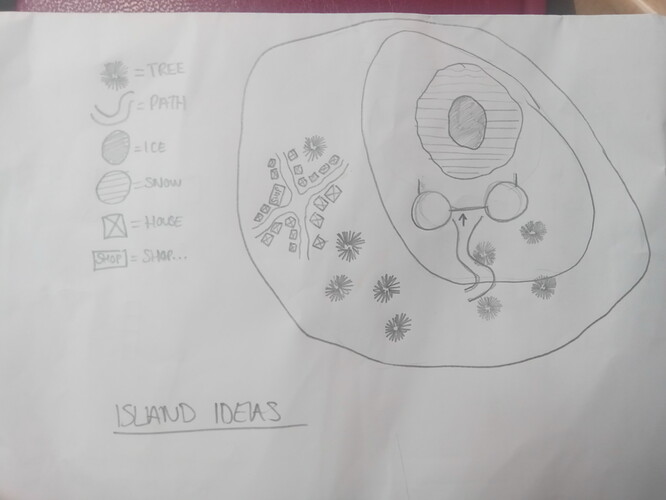 glad to see I'm not the only one that does this.

sometimes I use Google Sheets with the 8x8 plots shaded in. lol
Haha! Oh that's a good idea, might see if I can download a pixel painting app - would be super useful


Does it mean the same thing across the pond? lol I def wouldn't say that out loud over here
It definitely does in Denmark, that's for sure.

Also a dane here and yea most definitely does
Ayy, a rare encounter of a fellow pastry person!

Its a great day to have found another dane


You are the first i've seen since I started in beta
Hah, I've actually been around since very early on, but just haven't played too much up until this summer. It's always great to find someone else from around here, since we're so few and far between. øwøb
So, I'm planning on having a good day after a long night of work, but i have 2 towers that need building (for about 5 months now) and have serious builders block… I'm looking for something in the style of "old rome from north africa"; mainly in brownish tones of rock and/or sand.
I'm afraid that after the next update I'll be so spoiled for choice that I'll never be able to settle on a design. Anybody have good examples of 2x2 plot towers going up about 3 plots that they wanna share to help make my day?
Lol…and i thought i was addicted to boundless
Hey to be fair; sketching out a general idea helps give a lot more focus on the overall subject, and prevents derailing too much.
I've sketched out the area I'm currently working on, too.
Yeh it really helps, i can't be bothered to learn magicavoxel or whatever it's called, so pencil and paper will do me just fine