Hopefully we can all agree that we want Boundless to be wildly successful. For this to occur, we need a strong monetization strategy. The current strategy doesn't work as the game has been losing money for a long time (this was proven a while ago and I can't find the post now but suffice it to say the game wasn't all that profitable for James monthly). Hopefully we can also all agree that loot boxes are not something we want (even though one could argue that sovereigns are a form of loot boxes).
So what monetization does Boundless currently have?
Gleam Club
Sovereigns
Sovereign fuel
Purchasing the game itself
Purchasing of cubits
While I could dive into all five, I'd like to focus in on the first one, Gleam Club. Here's the current details: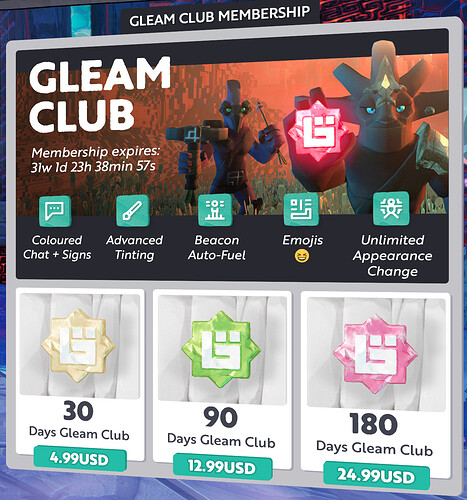 Of the benefits GC provides, I'd argue that the biggest draw to GC is the QoL feature it provides in Beacon Auto-Fuel.
Now, knowing that the current monetization strategy isn't profitable enough, what could we do to improve it? Obviously, things improve greatly by simply bringing on new players and @monty1 has already talked about the new player experience being first up when they're ready. . However, even with loads of new players, the current monetization approach likely won't cut it so how can we improve?
Introducing Gleam Club +
All the benefits of Gleam Club, plus

X% reduced crafting times beyond the already reduced crafting times (we know this is coming based on Monty's comment on the matter)!
X% increased XP from all sources!
X cubits monthly to spend as you see fit (Games like ESO do this with great success)!
New, shiny weapon and tool effects! Add various cosmetic effects to your weapons and tools such as fire, ice and shadow auras!
Pricing would be something like as follows:
30 days ==> 9.99
90 days ==> 24.99
180 days ==> 49.99
What are your thoughts? What features would you like to see as part of GC+?