No portal yet but plan on putting it on Cardass TNT
Edit: Dark Red gleam

Lilith II, portal S4 from PS Delta Cancret. Goes to stark turquoise gleam ball. Planet also has black lustrous, black meta, and hot cherry sedi.
I got black gravel on my sovereign
Beta Eridj-T4 Coal, accessible from Nomads Market on Delta Cancret, portal P15. I have no idea how to make a fancy forum post for my planet and I'm on PS4 so screenshotting is a hassle, warping and editing are allowed though, no plotting.
I have a T6 coal sovereign world with the big sky rounded gleam formations of night azure gleam. I also have the big night azure lustrous trees (the ones with the big foliage islands on top.
The planet isn't too bad looking, some colors are a bit weird together but the overall terrain is amazing if you like to grapple around worlds. Watch your step cause there are many holes that will bring you straight to lava. It is why I called it My Fancy Deadly Planet.
It should be accessible to all and everyone should be able to take blocks. Although no plotting permissions cause I won't be renewing it once it expires!
It is 1 blinksec from Shedu Tier. But my portal to it is at Land of the dead on Alnitans. Easy access from the Reaper's Deathgate.
I have platforms built under 3 of the bowling gleam rounded objects, for easy farming.

Rolled naturally rare night fuchsia. Also got black spineback naturally for you @DKPuncherello
Ragnarok, T6 accessible from Houchus portal seekers, sovereign planet, no plotting but can gather resources. has light red gleam to which I will be setting up a regen farm soon
is that accessible for random people?
There's black gravel on Angel I, perm planet @Saegfire38
It has black meta rock too, I believe.
Dunno I always went to Lasaina for black rock
I mine it under @econodog's base
It does. I like going to the lowest possible planet required to gather specific resources. Chews up my tools less

Shatee - T4 Lush - P11 off of TNT Delta C.
TONS of tree biomes - NO gleam ballz or oceans. Atlas at entrance - Plotting is currently set to EZPZ only. Colors, biome list, and pics to come at a later date.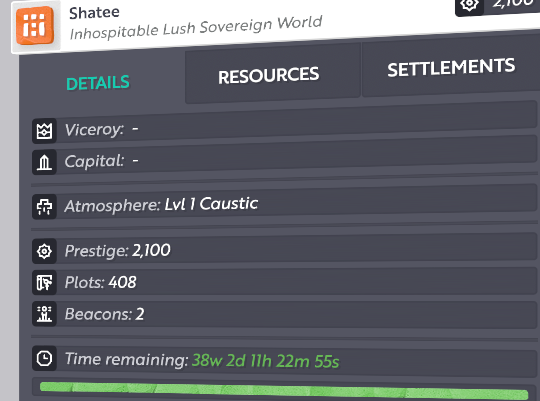 Some of the tree biomes are crazy dense…can't walk through them at all lol.
I think that might be Jungle Cliffs - I really like that one. If you get up on the trees there should be plateaus all around the dense areas perfect for a scenic back porch view!
It is beautiful, for sure. I agree, grappling onto the tree tops is the best way to go when they are that smooshed together. Makes them super easy to harvest which is a plus.