---
THIS THREAD IS ONLY FOR INFORMATIONAL PURPOSES
---
Hi all,
I am happy to announce that the [LOOT] Guild is doing great and wanted to share that with you all.
When I was asked to start a Guild I was reluctant as you become a target of jealous people but I wanted to give it a try anyway.
We are getting more and more members that enjoy all the activities that we do in Boundless.
Some things that the [LOOT] Guild does/provides:
Weekly Loot Run that will give us a lot of T6 Loot in an easy and fun way
Weekly hunts T3 + T6 with a lot of Oort stones
Multiple farms for resources
Public Shops
An extensive portal hub to go to all the best places in the Boundless Universe
3 Guild buffs for all members to enjoy
Nice area on Gellis to attach to (if you want to)
A personal Guild Shop Box with maxed out forged tools for very good prices
A Guild Shop area for lower tier tools for very good prices
A nice group of good people that are willing to share their knowledge about Boundless
A lovely Discord Server to relax and get to meet each other and have nice conversations
Now and then Guild Challenges where we do weird things and experiment with strange forged items/weapons
A Youtube Channel with information about Boundless and how it all began when I started with a new character on Gellis
https://www.youtube.com/c/SWProzee1Gaming/videos
I will put a video online soon that shows the Sov Planets that I created. (this is good stuff, trust me)
The Sov Worlds will make a big change in what I am still planning to do.
The [LOOT] Guild is doing great on Gellis as you can see in the image below.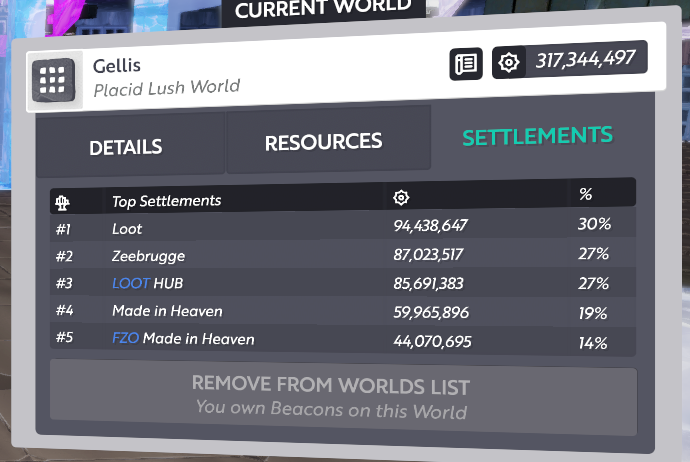 I am proud of all the [LOOT] Guild members and want to thank them for making the [LOOT] Guild possible !
Also very pleased to see that other Guilds and Guild members reached out to us to do things together. Much appreciated.
We play for fun and want to keep it that way !
I will update this forum thread when I have something to share/add.
Kind regards,
SWProzee1 (alt: Testing-game)


---
----------------------------------------------------Thanks for reading this ----------------------------------------------------

PLEASE DO NOT COMMENT ON THE POST


SEND ME A PM IF YOU HAVE COMMENTS OR IF YOU WANT TO JOIN THE [LOOT] GUILD

---