Please.
This is all I want.
I use a plugin to achieve this, but one built in would be nicer.
This is probably something you'd have to suggest to Discourse
I use a google extension called "Dark Reader" It makes every website into dark mode.
Might help solve your problem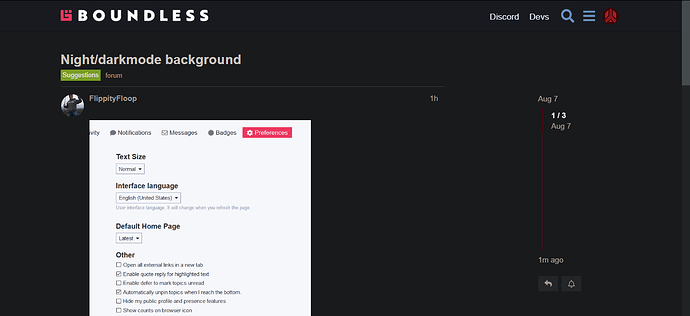 User -> Preferences -> Interface -> Theme -> Boundless (Light|Dark) -> Save Change ->

Only shows up on Desktop btw. But you can check mark the box to save for all devices and it will change the mobile one for you as well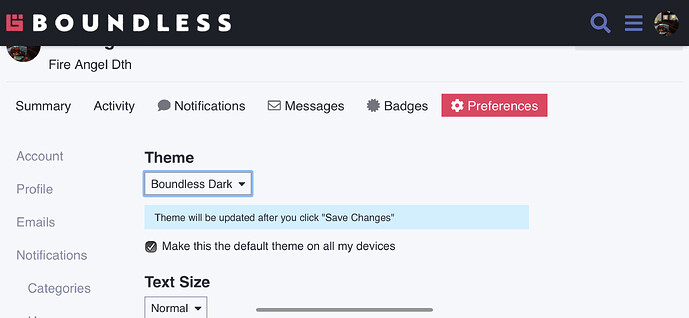 It wasn't there when I checked after James said something lol. But now that I'm in dark it shows it

Definitely going to take some getting used to on the new colors.

Haha yeah I know what you mean, 5 years of staring at the white kinda got me used to it and anything else looks odd
I might try it just on my mobile to start with.
I thought I was crazy and somehow missed it the first time I looked, then remembered to look at my screenshot and it wasn't there. Well that was faster than I ever could have imagined!!
Makes sense - phone browsers normally cache pretty aggressively. I must not have been to that page on my phone before, which is why it showed up right away for me.
I did it from my android phone
Thanks @james! Darkmode is so much better.
I tried. Nice option.
Back to Light though.


Now, add Pink for Paka.
Try pulling up mobile view and see if it works? Lol