Heelloooo Traveller!!

Hyperion is now recruiting Vault Hunters for a new mission in the most inhospitable region of the Oortiverse - Pandora!
The corporation, being the magnanimous entity that it is, has decided to open settlement to the public!*
*Void where prohibited, excessive plotting, trolling, or plotting of gleam spheres may lead to eviction and banishment, depending how evil Evil Paka is feeling that day.
Plenty of rubies are to be found in these barren wastes, and other flora and fauna abound. Sanctuary has not been founded yet, as of now, it is quite the wild wasteland. Eventually portal(s) will open from Paka's Palace, Alcyon (access via TNT Alcyon), for now, warp from Alcyon.
The RNG outdid itself… most colors except some plants left in their natural state. Perhaps not the look of THE Pandora, but given who this is here, you knew there was going to be pink.

(Shots were taken before changes but mostly looks the same) Gleam spheres to be found around -157, 965, Cool Red.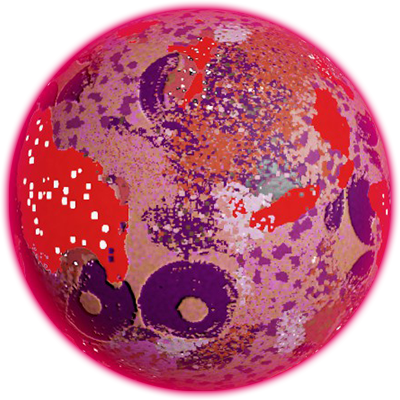 -------------------[Sovereign Details]-------------------


Owner : @bucfanpaka


Permissions : Can Visit | Can Edit | Can Claim
--------------------[

World Details]--------------------


ID : 739


Name : Pandora


Type : Burn


Tier : Fierce (6)


Atmosphere : Lvl 5 Volatile (4 levels)


Size : 3km (34 Regions)


Liquid : ▲ Lava | ▼ Lava


Region : US West
------------------[

Distance Details]------------------


1 blinksecs from Alcyon


Warp Cost : 100c


Portals : None yet
---------------------[

Time Details]---------------------


Appeared September 21, 2020 2:58 PM


Last until October 21, 2020 2:58 PM
-------------------------------------------------------------------
Blocks Colors

-------------------------------------------------------------------
: New Color to this date
-------------------------------------------------------------------

∟ - Gleam - 136 Cool Red

[Rock]
∟ - Igneous - 72 Warm Fuchsia
∟ - Metamorphic - 26 Silk Cherry
∟ - Sedimentary - 168 Light Fuchsia

[Wood]
∟ - Ancient Trunk - 76 Warm Cherry
∟ - Lustrous Trunk - 28 Silk Orange
∟ - Twisted Trunk - 173 Bright Fuchsia

[Foliage]
∟ - Exotic - 169 Light Red
∟ - Lush - 100 Light Orange
∟ - Waxy - 166 Light Berry

[Soil]
∟ - Clay - 26 Silk Cherry
∟ - Peaty - 14 Dark Orange
∟ - Silty - 73 Warm Magenta
∟ - Mud - 70 Silk Magenta
∟ - Ash - 76 Warm Cherry
∟ - Gravel - 118 Stale Berry
∟ - Sand - 79 Warm Red

[Grass]
∟ - Barbed - 76 Warm Cherry
∟ - Gnarled - 81 Warm Orange
∟ - Verdant - 69 Hot Magenta

[Misc]
∟ - Growth - 173 Bright Fuchsia
∟ - Ice - 136 Cool Red
∟ - Glacier - 164 Bright Magenta
∟ - Mould - 30 Hot Sepia
∟ - Sponge - 136 Cool Red
∟ - Tangle - 79 Warm Red
∟ - Thorns - 9 Strong Violet

[Flower]
∟ - Cloneflower - 71 Deep Fuchsia
∟ - Gladeflower - 74 Fuchsia
∟ - Ghostflower - 79 Warm Red
∟ - Spineflower - 11 Strong Fuchsia

[Plant]
∟ - Desert Sword - 10 Strong Magenta
∟ - Oortian'S Staff - 168 Light Fuchsia
∟ - Rosetta Nox - 73 Warm Magenta
∟ - Spineback - 70 Silk Magenta
∟ - Stardrop - 164 Bright Magenta
∟ - Traveller'S Perch - 79 Warm Red
∟ - Trumpet Root - 73 Warm Magenta
∟ - Twisted Aloba - 74 Fuchsia

[Fungus]
∟ - Branch Funnel - 29 Silk Mustard
∟ - Clustered Tongue - 81 Warm Orange
∟ - Glow Cap - 167 Vivid Fuchsia
∟ - Mottled Tar Spot - 254 Hot Orange
∟ - Tinted-Burst - 74 Fuchsia
∟ - Weeping Waxcap - 30 Hot Sepia
-------------------------------------------------------------------
Initial Resources

------------[Embedded World Resources]------------

| Rank | Resource Name | Absolute Count | Percentage |
| --- | --- | --- | --- |
| 1 | Copper Ore | 9,237,435 | 44.54% |
| 2 | Iron Ore | 6,621,780 | 31.93% |
| 3 | Medium Coal | 1,384,487 | 6.68% |
| 4 | Silver Ore | 996,260 | 4.80% |
| 5 | Medium Fossil | 717,391 | 3.46% |
| 6 | Large Fossil | 454,086 | 2.19% |
| 7 | Ancient Tech Component | 400,122 | 1.93% |
| 8 | Gold Ore | 342,527 | 1.65% |
| 9 | Hard Coal | 323,876 | 1.56% |
| 10 | Rough Ruby | 118,290 | 0.57% |
| 11 | Titanium Ore | 105,224 | 0.51% |
| 12 | Rough Diamond | 22,654 | 0.11% |
| 13 | Ancient Tech Device | 13,951 | 0.07% |

--------------[Surface World Resources]--------------

| Rank | Resource Name | Absolute Count | Percentage |
| --- | --- | --- | --- |
| 1 | Basic Boulder | 33,204 | 19.59% |
| 2 | Boulder Tower | 24,068 | 14.20% |
| 3 | Beanstalk Boulder | 17,759 | 10.48% |
| 4 | Tuber Plant | 15,302 | 9.03% |
| 5 | Tapered Boulder | 8,866 | 5.23% |
| 6 | Glow Cap Fungus | 7,728 | 4.56% |
| 7 | Combustion Fraction | 7,308 | 4.31% |
| 8 | Spineback Plant | 7,229 | 4.27% |
| 9 | Tinted-Burst Fungus | 6,033 | 3.56% |
| 10 | Desert Sword | 5,615 | 3.31% |
| 11 | Boulder Ring | 5,592 | 3.30% |
| 12 | Clustered Tongue Fungus | 5,155 | 3.04% |
| 13 | Trumpet Root | 4,775 | 2.82% |
| 14 | Starberry Vine | 4,675 | 2.76% |
| 15 | Mottled Tar Spot Fungus | 4,217 | 2.49% |
| 16 | Oortian's Staff | 3,523 | 2.08% |
| 17 | Kranut Plant | 3,029 | 1.79% |
| 18 | Traveller's Perch | 1,954 | 1.15% |
| 19 | Weeping Waxcap Fungus | 1,867 | 1.10% |
| 20 | Boulder Chip | 1,577 | 0.93% |