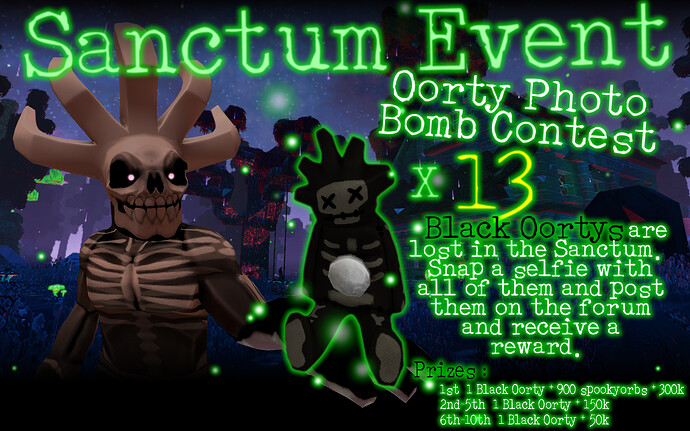 Well I'm sure you've been wondering about the Oortys hidden in the sanctum.
Please post your selfies here once you've got all 13 and claim your prize.
THE ONE OF A KIND Black Oorty. (Regular black oorty) to display proudly in your home or base. And some coin. Woo.
Prizes Winners
1.Angellus
2.Debstep
3.Gnomeria
4.MrDeagz
5.Imbadnopressure
6.Mrs.Avacado
7.Mywhatever
8.Cuttlebug
9.Samski
10.Cosmiccori
Please continue to post your pictures as you still have a chance to be entered for the grand prize.
*Edit - Grand prize also gets their choice of Sovereign world/fuel for a month (up to $40) and there are also an unknown number of other Sovereign worlds/fuels up for grabs for runner ups.
Huge Thanks goes to @Angellus and @FireAngelDth for the added prizes.


Special thanks to the people here for donating coin.
@superman101
@wakeNbake
@PrincessMaude
@Apt
@jaimepoutine
@Vanqu1sher