I think @bucfanpaka had this at one point too a while back?
Not surprised that it's selling for 0 lol

Yep, IIRC it is because it is a mixed stack where at least one item doesn't have a price. I'm ALWAYS forgetting to set prices myself… lost track of my "hey, your xxx doesn't have a price!" messages…
It is a funny bug though!

Stock up while you can! I hear they're nerfing atmosphere protection. We will need it soon!
I was thinking about selling dehydrated water. Perhaps @bucfanpaka and I can have a store together…I'll sell the water and she can sell the air.
I'm sure we will make a killing!
In that case I'll open up a store selling Nitrous Oxide for everyone so that they can keep laughing at these bad jokes!
the game has a block air (found over datamining) but its a dev block
that mean normal its not possible to get
The air block is available in the World Builder. it's basically used so you can create prefabs with hollowed out areas underground where normal terrain would generally be.
Hey that's the Lorax guy!!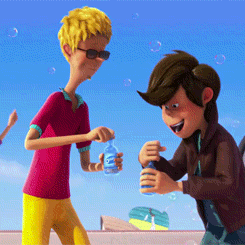 https://66.media.tumblr.com/c7dd7d847eb3b795d4d4ce9dce128786/tumblr_mhh3gr6jiT1qcoyt0o1_250.gifv
What are the exact coordinates of this particular shop stand?
Don't know the coords but it's at Gyosha Mall on Gyosha.
I have seen several there with the same thing.
thats not the air block, thats the "deletechunk" block, air is just what is there when there is no block at all (there is no such thing as "no" block)
What does that block cause/get caused by?