Would like a operational train

but I will take a mine cart also whatever is easier

Yeah I'd love to have a minecraft or similar travel option, I suggested that ages ago as well. Everything is just a bit too static.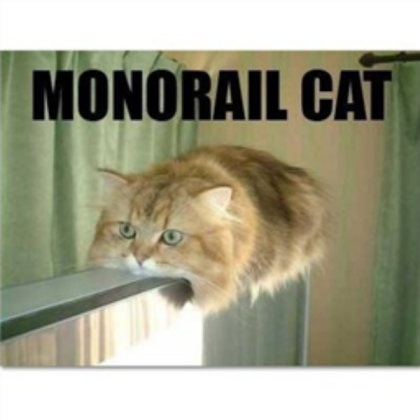 I was actually looking for a meme of the Simpsons monorail… But this far better
I would like different types of transportation.
Train, cart, hoverboard, tamed mobs, flying/gliding, boat…
Hover boards sound simple enough.
Hoverboard tracks… made from primordial monopoles… found on T8 exos

I can see where the developers might go for individual transportation like a hoverboard, but with the recent change to reduce sprawl and roads, I would thing trains are out.
Way to derail my dreams…

lol
Yeah… aren't train tracks just another form of road? Remember folks, some people think connecting any settlements together is a terrible crime…
Sorry could have kept my mouth shut

We should probably ditch portal networks too. They make it too easy for other players to come plot on 'YOUR' planet…
Sorry, feeling very cynical about this game lately.
Agreed, I wish we had moving parts. Spin platforms or rudders for boats, or flags that change due to wind. Trains and minecarts would be nice.
I want trains too !! Any transportation, really. IMO, tracks are not the same as a road since they allow faster travel. Roads would be suddenly great if a Helix actually allowed for faster travel on roads or something.
Speed helix for roads is a cool idea