Is it okay to sell my account? Resides in Lasaina. I have a lot of items.
No. It's against ToS. Players have been banned for trying to do so. https://playboundless.com/terms/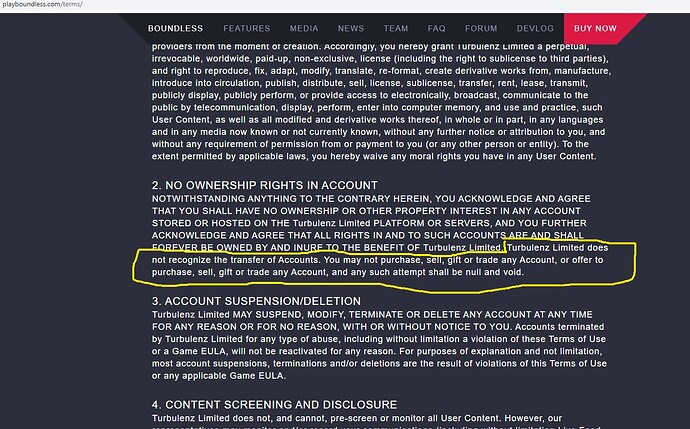 No. And for added emphasis, no

NO. you can only sell your items for in-game money
the reply was fast and clear. Okay, noted.

You can only sell your items for in-game gold. I believe @Qlakzo asked to sell their account for RL money.
Oh really, I didn't know that.
Considering Boundless uses Steam for its accounting services, in Steam's Subscriber Agreement section 1 subsection C
Your Account, including any information pertaining to it (e.g.: contact information, billing information, Account history and Subscriptions, etc.), is strictly personal. You may therefore not sell or charge others for the right to use your Account, or otherwise transfer your Account, nor may you sell, charge others for the right to use, or transfer any Subscriptions other than if and as expressly permitted by this Agreement (including any Subscription Terms or Rules of Use) or as otherwise specifically permitted by Valve.
Not everybody plays on steam


But i'm sure there is a similar one from Sony.