I know I know, nothing will happen for a long time but one quality of life update I would like to see is different type of tools and weapons becoming stackable, as in that you can have hammers, shovels and axes etc (+ including grapples, spanners, slingbows and chisels too. And why not also totems) in the same smart stack.
My reasoning is as follows:
This is my inventory currently while building.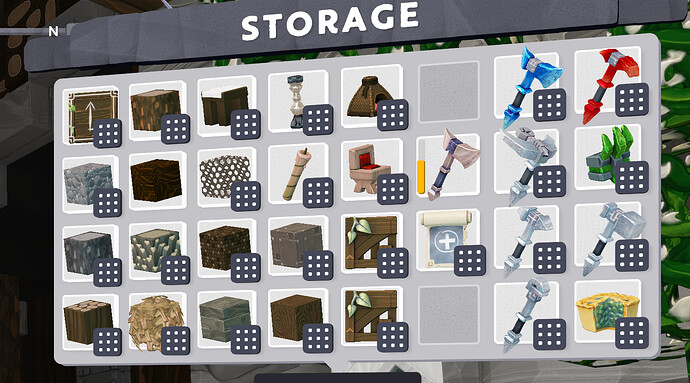 It does change a lot but the only things that are constant is that inventory always full and 8 slots are taken by necessary items. These 8 items are on the 2 columns to the right. If hammers, shovels, axes, spanners, grapples and slingbows were stackable, I could free up 5 slots becase 1 smart stack could include my 3x3 hammer/axe/shovel, 1x1 hammer/axe/shovel, 1 grapple, 1 slingbow and lastly 1 autodoor spanner and it would look like this.
I am not familiar with the technical side of the game so I am not sure whether this is possible or not but I would love to have those extra slots when I decorate my city!
Anyone else who would like to see this or anyone that is opposed to it?