I know this I am not a good builder
Doesn't matter your builds are good and who cares if it's bad looking as long as you have fun, I'm talking about materials, I have hate against using refined gleam as build material. Maybe just me but yeah u can use way better stuff I know it. And like I said I can give you some blocks Marble or whatever to replace the refined gleam, it will look a lot better

There's nothing wrong with your build - it looks fine. Everyone has their own preferences and likes/dislikes. Some people try to stick with nothing but natural materials, some like super flashy lucent blocks - it's all good

Build how you want to, with the blocks that YOU want to.
D: but it's so Pretty your a Builder no Doubt boop
Practice makes perfect they say

It all comes down to taste , I used to build in boxes ( this is my first building game )
small box , added an other box , maybe a box in the back …

My builds now are way better and even have pillars on the inside


Still working on my tree building now , never stop learning things and adjusting/ tweaking your builds.
It is an eye catcher of a build ( literally in this case , even better in the dark

)
lol I'm an ugly builder too the only thing that makes mine better is the end game materials or else …i should hide it


Your builds aren't ugly. I hope everyone builds in whatever style they like with whatever blocks they think look nice.

(It's very kind of you to offer them material upgrades.)
My 3 year old thinks your builds are beautiful!
Btw gleam is lit my only pretty mat rn
800 hours in, and most of my builds use trunks, lumber, or brick. I do use some marble now, but most of the time I stick to the simple materials.
Use the materials you think work well for your build, don't worry about looking fancy. Some of the best builds use only low-tier materials.
shiny (oh soooo shiny

), yes, ugly, never!
You wanna talk ugly…made a big ol' tunnel out of mould yesterday. Did stick some gleam behind it but I think it made it worse

If you guys will go a bit off topic, you might as well come make a shop in the market/mall

We have spaces available .
Is it just me or does every topic I visit get off topic
felt bad about going ot so visited, opened a portal (M13 = Park) and took a shop space…will build asap (ie. once I come up with a fitting idea…tomorrow hopefully)…love the look of the place!
Oh thx

, so the portal sign name will be Park? Just making sure.
A minimalist Park by @catfud and a portal in the market hub to park in biitula
Come buy coils.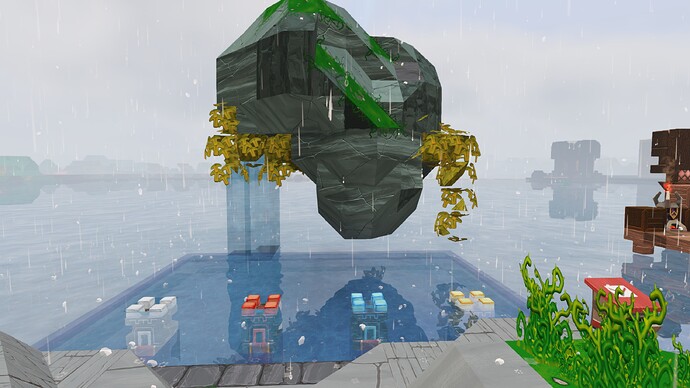 I happened to LIKE your build. Thank. You! lol It's why I got a screenshot and sent it to Lancelotz. I'm his official/unofficial photographer. LOL! I'm a guildmate of many jobs.