like the Titel says we have re-engineered the Guild-Fraction based Shopping-System with better footfall behavior, numbering scheme and sign in procedure.
Main innovations are:
Shop-spaces running on much more Characters (from 4 to 18)
They are arranged now in an Mosaic pattern instead of bulks beaconing
On one side of the Shop frame is now always a book for easy sign-in procedure
PM-boxes are placed in nearly every Street, Processing-time should be now ~24H
Also, we have a new numbering scheme that's based on Roads and plazas
–
Long inactive Shops get stored in our LTS (Long Term Storage) & gets returned when the former user comes back online
All Shop-spots keepers have Tax-Epic and half of them have Gleamclub membership
Also:
When you open a new Shop-stall, build/set up it and stock it, you receive 25k.
When you open a new market-booth, set up it and stock it, you receive 15k.
We still have many Prebuild-shell's and Freebuild Spots + Marketbooths with
Size of Pre & Free are 2x2, 2x3, 2x4 and a few 2x5, Marketbooths are 1x1 or 1x2
also, we have a few big store spots with 4x3 & 4x4.
Clarification on Trust and who else has permission on the Shopspot:
-Besides you(Shop leaser) have also Xaldafax's secondary Character Access for monthly Footfall payout & I with my secondary Character or/and Characters from my 2nd Account as Shopholder and management.
-Xaldafax & I (Aquarius/Which) are trustworthy Highlevel Backer that play since 2017 with thousands of hours in Playtime and experienced in many parts of the game.
Portal Connections are now:
TNT-Planetary Portal NZK, PS-Lamblis Cityportal, Elysium, Ultima- Aquatopian Empire Portal, Ult NZK Hub
more Portalconenctions in future
Mall Map with Shops:

New Mall Map:

Sample of easy sign-in book: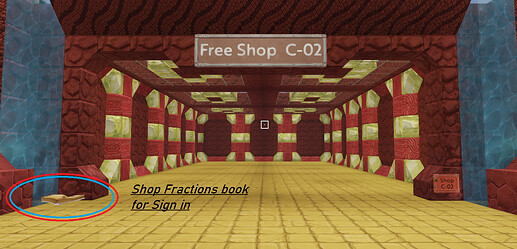 Other City Info&Goals in 2020:
-Reworking of Buugi-Plaza Design and Fountain Square
-Opening of Theme-park
-Opening of the Metro-Stations and tunnel system
-Garden Circuit District
Best regards,
Aquarius