[update januari 18 2022]
Restocked most of the empty stands and baskets (still doing so).
Just a temporary spot but ill start adding forged tools starting with what i use the most


(These stands are located north side of my machineroom for now as I haven't build Terra Forge yet.) ill try to get the exchange up and running asap with a new selection of mats it will start buying and selling.
At the moment im spending most of my time working on the new dk hub/mall, located on tana.
[update 27 November]
"The sweet tooth" is build and started to sell a few pie's


Added several additional base mats to "the exchange".
And started gathering (craft) prices for "the wonky tavern" which will hoop fully become active in a week or two.
Removed "the what's it" to make room for "mighty gems" (still in the figuring out stage).
It will be some time before "the what's it" returns with new stock that has to go (storage consumables that won't be made anymore).
The new roads have been placed (not chiseled).
And started planning the layout for the market area (wich will take some doing before i release plots

)
Probably also will start building my farms asap so they can help out "the exchange" (with seed and crop).
Thats all for now (got that feeling I forgot something but… meh…

)
[update 28 October]
All stairs and hallways are build and usable.
"The Iron horse shoe" (metal crafts) is up and running
Also "The exchange" is fully build and will start buying and selling mats as the other shops pop up (currently only buying and selling mats that "The Iron horse shoe" can use for crafts).
Currently started work on "The Sweet tooth" (foods) and "The Wonky tavern" (brews).
Followed by "The what's it" (random crafts) so i can move the temporary version to make room for "Mighty gems" (gem crafts). After all that "The Terra forge" (forge crafts) is planned to be build.
I will after this still have 2 spots left and I don't know for now what kind of shops ill build there.
[Update 5 October]
Still a lot of work in progress but…
Machine room and the Terra Exchange are mostly build.
Also moved DK hops up to make room for theFIRM network.
Until i get Tana (DK) ready ill be working on and off on Terra Nova when i got time to do so. So pardon the dust every where

.
[Update 4 July] (tokens are up now)
TNT Lamblis portal has been moved to the new hub.
Tokens of the new hub will become available in a week or so.
Depending on if all not owned connections are arranged to move to their new hub location it might be sooner.
(Have messaged most of the active portal connection owners already).
That said the owner of SW2 in the old hub (The new mana tree) i searched for a mailbox but couldn't find one. Build a sign with mailbox next to your build (ill remove it after).
Currently im building bit by bit (and slow) as a lot of irl stuff is getting in the way. So please be patient.
The portal connecting to the old roads stays in the old hub (not planning on moving that one at all).
Finally i wil be online here and there to receive and process the pm's i get.
Just make sure you place the baskets and ill come by and drop the stuff

.
I will be working on the roads and layout for now, when i have time to play.
Shops didn't move just use the 1x2 next to the TNT portal to go to those stands.
[old post]
Currently all owned portals except TNT have been moved to the new hub. (UTIMA, tigg's, GTG and DK).
TNT will move some time this week to.
In addition anyone who owns a portal in the current hub ill contact you after i move TNT to the new hub.
After I've moved player portals new tokens will become available.
For now until everything is on the same location there is a link between the old and new hub.
In the old hub (SW1)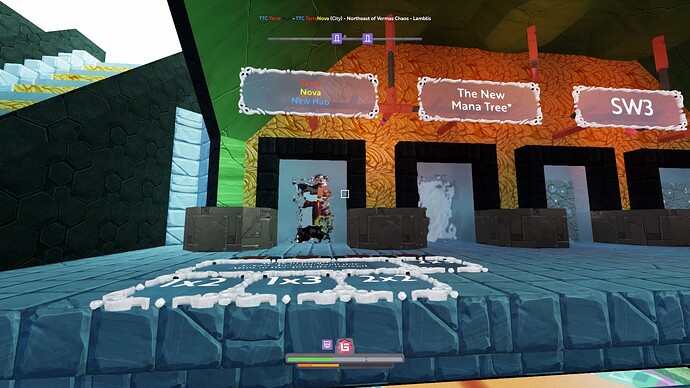 In the new hub (center)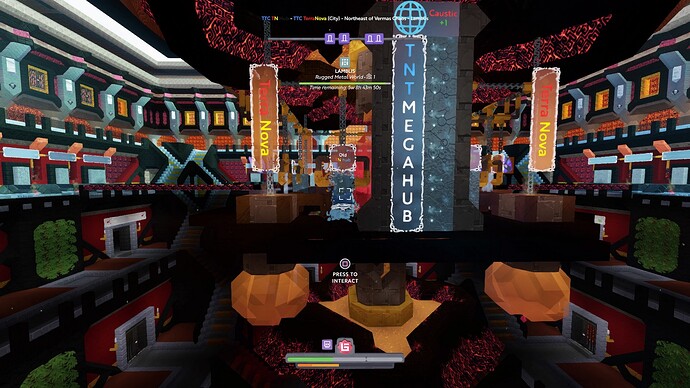 Ill update this topic as i go.
(Please not it depends on IRL interface [wow that mistake is old… its interferences 23-november] how fast i can go).