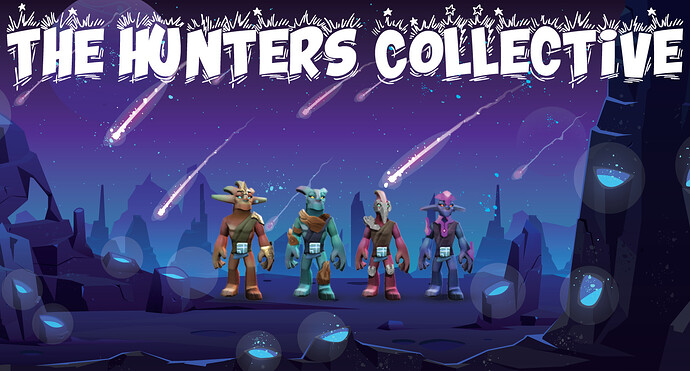 The Hunter's Collective comprises of - EZPZ, CORE, Twisted Dragon, Brown Town, The Vikings, Tesseract, Glitchworld and Kree.
This project has been a long time coming, we put our heads together and decided that this would be a great initiative to help our guildies and other members of the community keep in touch with hunt leaders and fellow hunters. We will be running events regularly (not just marathon hunts) and have a designated space on Discord where you can ask questions, get to know everyone and stay in the loop about hunts and hunt times. (discord link below)
NOT YOUR STANDARD 16 HOUR MARATHON
The marathon begins at 3pm EDT on the 28th May and will run for 16 hours.
This marathon is designed to show you, the hunter, where the guilds meet, the leading style and what type of hunting they do - you might find a guild you really gel with.
After every 2 hour section of the marathon, there will be prize giveaways. Including but not limited to - max rank lucent bows, millions of coins and many many other goodies.
3pm EDT - 4:45pmEDT (BT)
(Cephonix merika) Any
5pm EDT - 6:45pm EDT (BT)
(T5 Bessie) Best - Topaz/Rift, Neutral - Sapphire, Diamond
7pm EDT - 8:45pm EDT (Glitch)
(Circapous I) Any
9pm EDT - 10:45pm EDT (Vikings)
(Valhalla) Any
11pm EDT - 12:45am EDT (Tesseract)
(Decateron V) Best - Diamond/Blink, Neutral - Ruby, Topaz
1am EDT - 2:45am EDT (Kree)
(McRib) Best - Emerald/Umbris, Neutral - Amethyst, Sapphire
3am EDT - 4:45am EDT (C.O.R.E)
(houchus I) Best - Ruby/Blink, Neutral - Diamond, Amethyst
5am EDT - 6:45am EDT (C.O.R.E)
(Shedu tier) Best - Diamond/Blink, Neutral - Ruby, Topaz
7am EDT - 8:45am EDT (Kree)
(T3) Any
YOU DO NOT HAVE TO ATTEND THE ENTIRE 16 HOURS TO WIN A PRIZE.
Current prizes:
Items (estimated value 5,930,000c):
20 Feathers
50 Atlas
8 Chryso Coils
20 Gleambow Totems
3 Triple Debuffer Bows
27 Forged Rift Bows
16 Forged Blink Bows
19 Forged Umbris Bows
19 Forged Rift Grapples
12ss Forged Healing Bombs
12ss Wayfarer Totem Looters
12ss Forged Emerald Grapples
12ss Forged Gem Slingbows
24 Candy Totem Clearers
8ss Gem Buff Bombs
2ss Kindling Seeds
2ss Petroleum
Coins:
7,120,000c
$:
20$ Sov-related Purchases
3km Sov World + 120d World Fuel (50$)
Time:
40ss Chisel Changing Service
TOTAL: 13 million+ , 70$, 40ss Chisel Changing Service
MASSIVE THANKS TO OUR CONTRIBUTORS:
FruitcakeJohn
DJ
Power
Nonie
Whitelet
Karios
Twisted Dragon (11Elvis11)
Izzabell
Capt
Karl
Miaii
Refgar
The Hunter's collective will meet in the discord channel - please feel free to join and get to know us.
We hope to see you there!
Starting places and marathon plans will be released close to the time on the forum and on discord.