I can give you some coal

Thanks but it's okay. I had just forgotten to top up the generator lately. I've got quite a bit of compacted hard coal here. It's just takes a while to burn.

And there we go… 1000 worth of brick mixture is crafting in 3 Mixers. Should have the bricks ready in about an hour.

This one is on me. My bad. The brick you gave me split into two in my inventory - it didn't stay in one stack. Part of it was hiding under another stack of brick I had.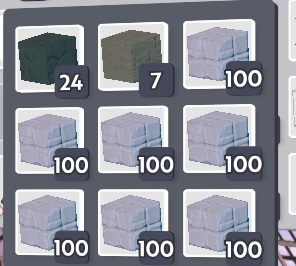 I'm sorry but I've just spent the last few minutes laughing my socks off.

It's an easy thing to overlook and honestly, I would have thought that it would stay as a stack after a trade and not split like that. So yea, not your fault to assume something had gone wrong. It is funny though. lol.
Anyway, glad you found them!

This is better than Eastenders !!
I have my derpy moments.

incredible saga. I was moved.
Ya know, when I read what happened this is what I expected to have occurred!
I use brick a lot, and I mean a lot, so this has happened to me more than once, so often I either move stacks by hand or use separate storage boxes but with trading it just goes everywhere.
Also I use Ashen Blue brick a lot, lovely our world stone colour, the roads are partly made with it as are the paths of the market, so I also have plenty in stock all the time for the next time you're in a bind