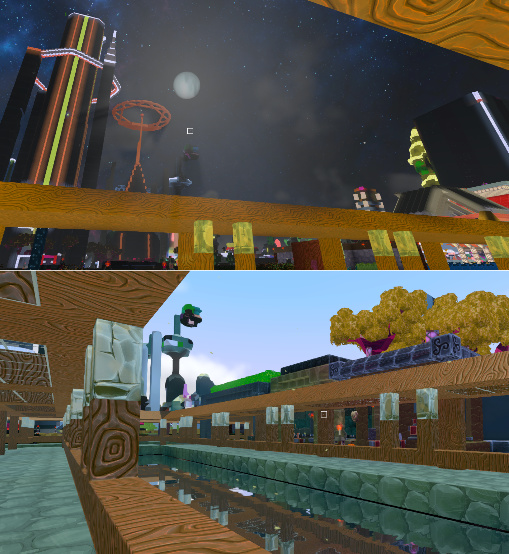 !!UPDATED 11-5-2018!!
!!!There is now portal access!!!
Ultima Hub Green section (new Portal)
PS Finata Planetary Gate (re-opened)
Portal system setup on Riverwalk
Ultima Mall 1F (Closed)
Simply Sym Portal right over EU planetary hub next to the amazing Moonies!
The new direction
I want to take a new approach to the Riverwalk Plaza. I am a hunter at heart. Running around finding last minute items before a hunt is always an issue. I will be working towards integrating the Riverwalk Plaza into Hunting meetup locations to have stocked hunter items available in one location for the many, by the many. To assist with those last minute grabs or pre planned hunting events.
I have absolutely no desire to have a shop, that isn't my end game. However, If you cater towards the hunter or need items from hunters to make your profits now is the time to come grab some land to setup an outlet or branching location to feed and gear the hordes that throw themselves at cuttletruck disco flares, get blown to bits by hoppers, riddled full of spitter rocks, fall to their death for no reason, and the occasional chase the road runner for 7 regions.
Come check out the new plaza map directory. It represents the entirety of the Riverwalk Plaza from a birds eye view. I am waiting for the new signs update to hit to make it extra readable.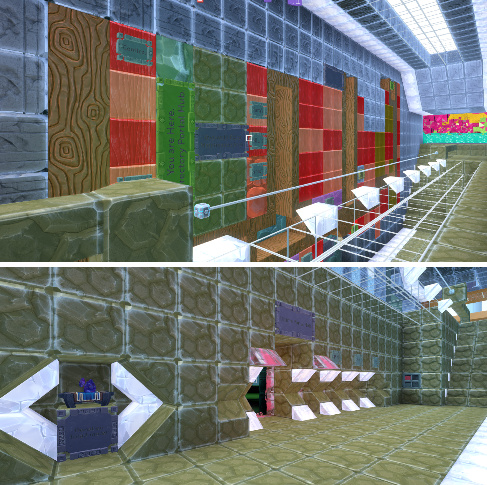 Shopping Plots have been expanded! There are now 2x2 and 2x3 shopping plots to accommodate bigger shops! An internal portal system has been implemented to the Riverwalk Plaza to assist in faster travel. Portals are at the north, south, and middle of the plaza. A portal hub is being constructed for other shops to utilize that are within the city or on the planet Finata or in the universe.
Google Plot Tracker is updated with the new layouts.
As always, If you are interested in shop registration then please continue to read!
What is Riverwalk Plaza?
Riverwalk Plaza is designed as a physical location shopping plaza for up to 42ish personal, town, and city represented shops. The plots are adjacent a walkway that runs the edges of the river system for a unique communal shopping experience with a vast amount of shopping options focusing on Hunting goods and other less interesting items while still being cheaper, more pleasing to visit, and with a fraction of register lines than Cabelas.
Before you consider registering a shop plot please look at the attached spreadsheet and come look at the Riverwalk Plaza, which is located in Ultima Guild HQ on planet Finata. 122N 1,197E a short jog east of the Ultima Portal Hub, you do not have to jog now as there are at least 4 portals to the location with more being put up every day.
One shop plot per character may be registered. Refer to the Mapping sheet linked at the bottom of this post for most up to date information on the plot availability.
Registration Requirements:
A beacon with fuel. Plot marker for adding plots if you are registering a multi plot shop. A desire to make an eye catching shop that will stand out from the others as they browse the river walk.
Basic rules:
One shop plot per character. Shop plot belongs to the character that registered it until they return it to me or to another person. This will require my knowledge to change the registered name on the shop directory wall. COC is in effect for shop names if you are a fellow goon.
Building restrictions:
Please refrain from plotting or building above the base level of the River walk if you have a plot on the western side of the walkway (water level plot). There is a very nice view of the city towers from the walkways that adds to the atmosphere of the plaza.
I changed the build rule because I already broke it, so it is only fair. However, if you are on the Western side this rule applies to you i do not care who you are, western side won't build above the base plot.
You must have a door, opening or a jumpy stair maze that leads into your shop ON the River walk walkway. You are ENCOURAGED to have portals inside your shop area that lead to other shops or your main shop. It is not required as I have main portal hub access in 2 locations and working one directly off PS hub TBD.
There is no dress code, no restrictions on what materials you can use or how it should be designed. You have a full artistic license to make the River walk an extremely unique shopping experience as well as an iconic landmark for everyone's enjoyment and profit. Please adhere to the building policy.
Common courtesy:
Be courteous to your neighbor and their shop. That should sum it up.
This is not a residence, this is a business location. If you wish to live near your shop then put a portal in it. I am allowed to modify/add/alter/change/ these guidelines to better the benefit for everyone.
Basically, One plot per character, you are responsible for your plot as the owner, don't be rude, and seriously don't build/plot above the base plot if you are on the west side.
Registration:
Contact me via Discord Munkeylord#1956 or PM on this forum to start your registration process.