For those of you playing with a Steam Controller - I wanted to share my latest configuration ("Streamlined"):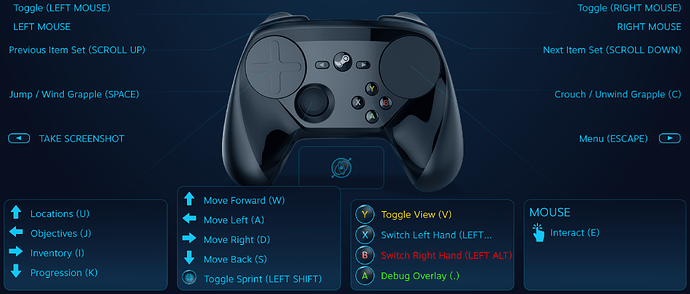 To use it, you'll need to bind "Wind Grapple In" to space, and "Wind Grapple Out" to C. I also highly recommend disabling "Open Inventory Using Interact Key" under game options.
---
The configuration features:
Mouse button toggles: Pulling down completely on a trigger (until it clicks) will cause that mouse button to toggle on/off until the next time you pull down. This is great for long mining sessions, and saves your wrists from unnecessary strain. Short pulls on triggers behave normally.
Single hand item switching: By default the bumpers will swap items in both hands. If you want to swap a single hand, hold down

for your left hand, or

for your right, and then use bumpers to cycle items for that hand.
Menu scrolling: When viewing game menus, you can use the left pad to scroll up and down. Treat it like a touch pad by dragging up and down.
Sprint toggle: Pressing down on the left stick will toggle sprint on/off until the next time you press down.
Everything is bound: You've got access to all key binds in the game (as far as I'm aware)!