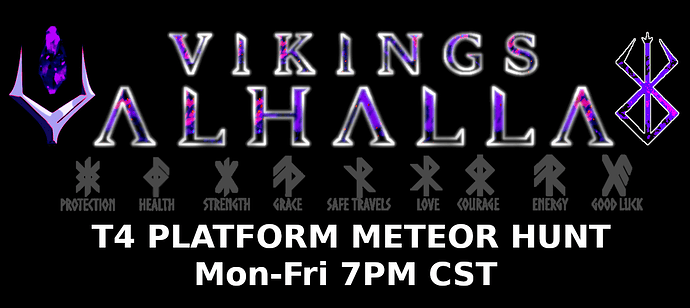 ------------------------- HUNT INFO ---------------------
‎Hunt Leaders:
Wednesday
@Nalidragon Toothlessfury [Running]
@Rubyxraven77 Skulldagger [Portals]
Friday
@glr Hazard/NPCGuy [Running]
@Rubyxraven77 Skulldagger [Portals]
Days: Wed & Friday
Time: 12:00:00 AM
Duration: 2 hrs +/-
Bow Type: Any Gem
Beneficial: OORT
Prize: ???
Planet: Valhalla Prime
1Blinksec: Delta Cancret
Protection: Lvl 1 Caustic
Capacity: 40 Max
Meet & Access: TNT Sov Wall > Valhalla Prime
Rules:
Arrive 15-30 mins early to reserve your spot, been filling up
If you need to leave the hunt, please use sanctum and don't place portal blocks.
Track hunt leader and stick together
Please have correct skill page & wait to be revived
No dropping trash around group
DMG Bombs are only allowed for trees, but it's extremely rare that we need them
Come prepared with Bows, food, brews, campfires, chest, grapples, revive augments, and hunter skill page.
HAVE FUN!!