I want more of this.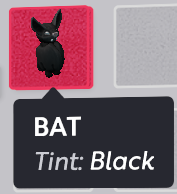 At least 500, Maybe more depending on the price.
omg lol i might have like 20 maybe and possibility to grow some more but not very fast as my set up is small (my humble needs only)
you are looking for someone else so
Yes, I can be a little insane at times
I will buy what you have.
ok I will log in and check my stock and can plant some more
I think I might have 200-300 of them… I think.
I made a point of taking advantage of them being bugged and all maturing as black so you can have them for no charge.
Will send a message next time I get a chance to hop online.
you see? you already have someone else

I knew there must be someone with large numbers

Now I just need someone who's looking for all the pink, blue, green, yellow, orange, etc etc ones that I got for harvesting some of them too late, haha
Thank you.
Where can we meet for them?
Someone's building a batcave.


@Trundamere I'm available to meet up and collect these bats. I have about 280 of them.