Something's up … the game is saying that my main character only has 1 of 1 plots already plotted wherever I try to add plots.
I had used nearly 1000 of 1124 or something last I remember looking … either way I was a way off 'full' … and even when I've used all my plots it says the total at least.
Have I broken Boundless?

( will report back after a restart - I don't expect there to be any crash reports )
EDIT - Same after restart.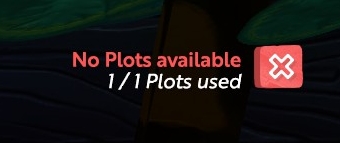 Here's ( what also seems incorrect ) my character total, which has an odd 'Unused Plots' value since I still more to go.

I'm reticent to add more, given this oddity.
It also wouldn't let me adjust some permissions properly, either … which was also weird.