Welcome Oortians,

---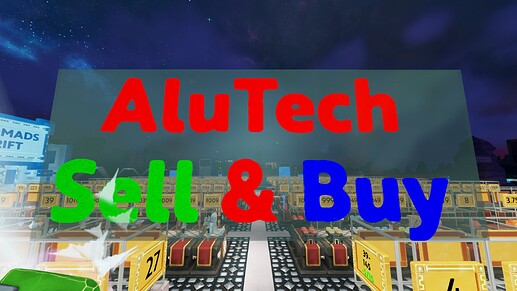 ---
You are new to the Boundless-Universe and are currently exploring the trading system?


Or have you already arrived in the universe and are looking for a particular shop?


So that you do not have to err to us, I have listed and illustrated all portals that lead to us.


Maybe we can help you on your way in the Boundless-Universe.

---
1. HUB
Iconic ~ The Hive ~ South Side 1.Floor ~ 1.595N -749E A:72 ~ Biitula

The Hub



AluTech

---
Portal Seeker ~ Shopping Hub - Lamblis ~ East-Side 1.Floor ~ -1.354N -1.504E A:71 ~ Lamblis

The Hub



AluTech

---
TNT ~ Mega Hub ~ Mall´s & Market´s ~ -1.422N -1.979E A: 49 ~ Circarpous 1

The Hub



AluTech

---
Ultima ~ Central Network HQ ~ North-East-Corner ~ -1.450N -963E A:65 ~ Eresho

The Hub



AluTech

---
Ultima ~ Aqua Hub Inc. HQ ~ South-Side ~ 152N 795E A:69 ~ Finata

The Hub



AluTech

---
River Towns Portal Hub ~ South-East Side ~ -1.033N -2.088E A:81 ~ Arie

The Hub



AluTech

---
DK´s Ultima Tree ~ East Side ~ -1.429N -1.163O A:76 ~ Eresho

The Hub



AluTech

---
LaFamilia Hub ~ West Side ~ 222N -509E A:65 ~ Niia Zed Ka

The Hub



AluTech

---
icon ~ EU Central Guardian ~ South-West-Side ~ -215N -1.373E A: 68 ~ Lamblis

The Hub



AluTech

---
Fireborn Nomads Hub ~ basement Floor ~ 954N 1.521E A:66 ~Alder

The Hub



AluTech

---
ODF ~ Portal Hub ~ North-West-Side ~ -807N -1.285E A:81 ~ Finata

The Hub



AluTech

---
42 ~ Antara Hub ~ South-Side ~ 2.291N -1.440E A:65 ~ Gellis

The Hub



AluTech

---
M.E.G.A ~ Portal Hub ~ North-Side - First Floor ~ 293N 1.568E A:63 ~ Dzassak

The Hub



AluTech

---
Happy ~ Fairy Tail Hub ~ North Side ~ 713N 960E A: 124 ~ Arie

The Hub



AluTech

---
O.I.K. ~ OIKOS ~ {RTG} Ville d´OIKOS ~ North-West-Side ~ -761N 1.471E A: 65 ~ Antar VI

Hub



AluTech

---
-*100th Moon Portal Hub*- ~ The 100th Moon ~ South-Side ~ -5N -2.066E A: 65 ~ Arie

Hub



AluTech

---
Regno Dawn´s beacon ~ North Side ~ -1.023N 1.732E A:63 ~ Arie

Hub



AluTech

__________________________________________________________________________________
2. Mall / Shop
Kami Hasu ~ North-Centre-Portal ~ 1.253N -224E A:129 ~ Alder

Hub



AluTech

---
Star Store Sanctuary ~ Sanctuary ~ East Side ~ -2.005N -2.248E A:65 ~ Gellis

Hub



AluTech

---
The Witches Brew ~ North-West-Corner ~ -1.419N -1.249E A:64 ~ Eresho

Hub



AluTech

---
Baffy ~ Portal Platz ~ West-Side ~ 1.224N -255E A: 73 ~ Finata

Hub



AluTech

---
IA ~ Oort Shop ~ North-East Side ~ 1.511N 2.244E A:65 ~ Imoco

Hub



AluTech

---
Endless ~ Auridon ~ right Portal ~ 1.937N -1.417E A: 78 ~ Dzassak

Hub



AluTech

---
Glitch ~ Doom 101 Shop ~ North-Side ~ -611N -137E A: 65 ~ Refgar

Hub



AluTech

---
Magula City *Ger* ~ North-West-Side ~ -1.066N -612E A: 72 ~ Trung

Hub



AluTech

---
MLG Temple ~ single Portal ~ -2.060N 1.420E A:66 ~ Gellis

Hub



AluTech

---
Illuzion buy & selle ~ Illuuzion ~ South Side ~ -91N 1.585E A:65 ~ Sochaltin 1

Hub



AluTech

---
Wet patch ~ Swamp Trekkers ~ West-Side ~ 283N -551E A:64 ~ Sochaltin 1

Hub



AluTech

---
Rising Edge ~ South-East-Corner ~ 67N 2.077E A:76 ~ Arie

Hub



AluTech

---
KoGa Garristion ~ North - right Portal ~ 2.141N 558E A:68 ~ Anatar VI

Hub



AluTech

---
CHKW Munchongo Bay ~ single Portal ~ -193N -569E A:78 ~ Finata

Hub



AluTech

---
Out of the Box ~ single Portal ~ -2.149N -55E A:72 ~ Lamblis

Hub



AluTech

---
Lionelus Buy&Sell ~ central Portal ~ 84N 1.828E A: 67 ~ Sochaltin I

Hub



AluTech

---
MLG Dark house ~ single Portal ~ -2.010N 1.351E A:67 ~ Gellis

Hub



AluTech

---
Ermdoo Fawlty Towers ~ North-Side ~ -977N -963E A:76 ~ Arie

Hub



AluTech

---
Dank Bonsai ~ single Portal ~ 1.742N -2.123E A:145 ~ Imoco

Hub



AluTech

__________________________________________________________________________________
3. Hunt Lodge
iLLN Naughty Hunt Lodge ~ South-East-Corner ~ -649N -466E A:73 ~ Circarpous 1

Hub



AluTech

---
_________________________________________________________________________________
4. City
SMX Lorien ~ West-Side ~ -792N 170E A:68 ~ Sochaltin 1

Hub



AluTech

---
Portal & Shop ~ Elysium ~ North Side ~ -1.082N 2.249E A: 146 ~ Gloviathosa

Hub



AluTech

---
_________________________________________________________________________________
5. Player Portal
-closed atm- Greater Raftel ~ 1.540N 1.939E A: 59 ~ Arie

Hub



AluTech

---
HOBAT ~ Hobatoria ~ -1.623N 943E A:57 ~ Niia Zed Ka

Hub



AluTech

---
Johns Castle ~ Hamburg ~ 624N -1.470E A: 74 ~ Arie

Hub



AluTech

---
Fuz Kessi ~ Aincrad ~ West-Side ~ 1.950N -1.482E A:66 ~ Finata

Hub



AluTech

---
TrGi Dundee ~ Scotland ~ single Portal ~ -2.005N 1.163E A:69 ~ Sochaltin I

Hub



AluTech

_________________________________________________________________________________
6. Farm / Buildings
Orb Farm 2.0 ~ Shimmering / Pulsating Orb Farm ~ 1.931N 1.285E A:57 ~ Refgar

Hub






AluTech

---
"SCC The Hive" ~ Raven ~ South-East-Side ~ -1.949N -2.085E A:97 ~ Gellis

Hub



AluTech

________________________________________________________________________________
See you there
[Make Boundless, limitless!]
[List-Update 17.05.2020 ~ PM me if somthing is wrong]

---

Shops

~Alu Tech - Sell & Buy~ was designed and operated by @Alucard2150 (Ingame: AluTech)

~Elbwiesen - Mini Markt~ was designed and operated by @FlitzPiepe (Ingame: FlitzPiepe)

~Fireborn Nomads - The Power Forge~ was designed and operated by @ idn? (Ingame: Powerman)

~Finest Pharaos Treasures Marble & Exo~ was designed and operated by @Turrican2006 (Ingame Turrican2006