Well this is a system type that i am kinda split about, i kinda like it and kinda hate it at the same time, depends on how it implemented.
the idea is that you set something to do an action and then it will do it until it is finished, even if you are gone, even if you are offline.
i have 2 examples for it, a good and a bad.
The good:
Dragon age inquisition's wartable: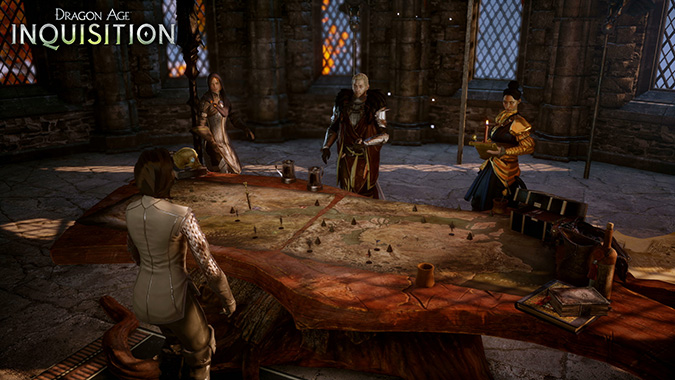 Dragon age inquistion is a really good RPG that does almost everything right (in my eyes) but something i feel is an amazingly cool way of doing things is the wartable which you can acess from your keep.
from the wartable you have pins which you can click and get information, there are 2 types, 1) unlocking new areas using power (which has nothing to do with this) and 2) events where you send 1 out of 3 ambassadors to fix a problem, the lore for them varies but they are fundamentally the same, pick a pin, send an ambassador, every task takes time varying from a few mins to 15 + hours, when they are out you cannot assign them to other tasks before they get back, when they get back you get a small overview on how it went and then you get a reward for doing it, these varies greatly depending on type and length of the task.
but in short you click a pin and see something like this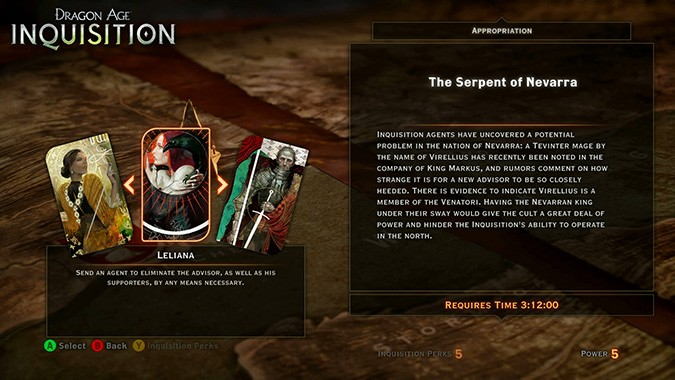 the timer just continues even when you are offline or out questing, you then get a notification when it is done and you can get your reward.
I love this system because it feels like i am still making progress even when chilling around or being offline, i catch myself spending most of my time just relaxing and talking to the npcs in my keep after i have put my ambassador on a small job,
then when it is finished i go back to the table, claim reward and then send them out again.
The best thing about this is that the options are totally optional, you get some crafting recipes and some armor maybe, but you dont feel like you lose anything for not doing it but more like you gain something every time you do it.
The Bad:
Elder scrolls online Trait system:
For those who havent played ESO it is an mmo made on the Elder scroll games, actually a pretty good game which just went buy to play, so i suggest taking a look at it, but never the less, there are 2 things which are insanely annoying
the crafting is boring and is just a pie machine (put in stuff, get something out)
there is a trait system which is time based.
The trait system is in theory really simple but insanely tedious to work with because of the way it is build.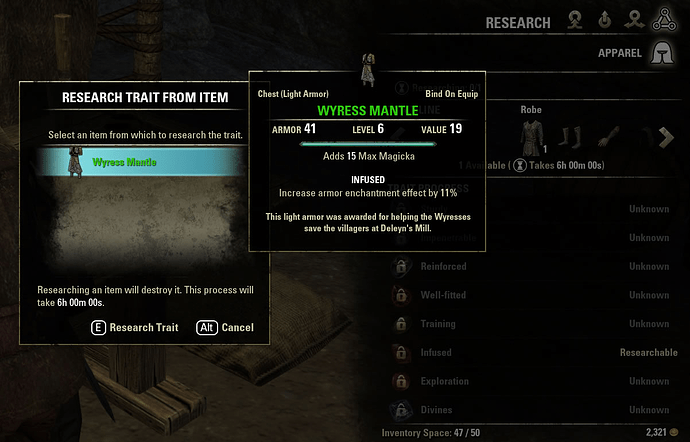 every type of item had 8 different ''traits'' which could be made on it, the way you unlocked traits was that when you found an item with a trait you could ''Research'' it and learn the trait, in theory quite awesome, but the problem was that the time it took always multiplied with 2 compared to the previous. so it took so freaking long, and it was neccesary to have the traits in case you wanted to craft sets items, the needed traits would differ from 2 - 8 traits to be able to make the item with that set bonus.
every… single… item… needs to get the traits learned seperately, so even though i learned a trait on my hammer i cannot use the trait on my sword, although they are both under blacksmithing, which is really nice in the sense that people could specialize,
here is the time needed to learn traits on an item, item refers to the trait on 1 item, so learning your first trait on your sword takes 6 hours, learning your second trait takes 12 hours and so on.
Item 1 = 6 hours
Item 2 = 12 hours
Item 3 = 1 day
Item 4 = 2 days
Item 5 = 4 days
Item 6 = 8 days
Item 7 = 16 days
Item 8 = 32 days
you see the end? 32 freaking days!!! you can train up to learning 3 traits at once, but even then it takes one to several years to get all traits, and it just feels like a lazy solution. and it is really really bad.
Now how it could be used for oort.
Infused Materials:
1 thing i think would be nice would be to allow people to infuse materials with for example oort shards or other types of energy using a special forge, and then increase the time it takes to infuse the higher the tier
Example:
I am a master blacksmith and i have been asked to craft one of the best possible swords that i can, i have the highest tier metal that i can get called mithril, but it is just not strong enough, i need Shadow infused mithril to create a sword who is stronger and faster than the ordinary.
I head over to my infusion forge and scramble in the chest beside it to find what i need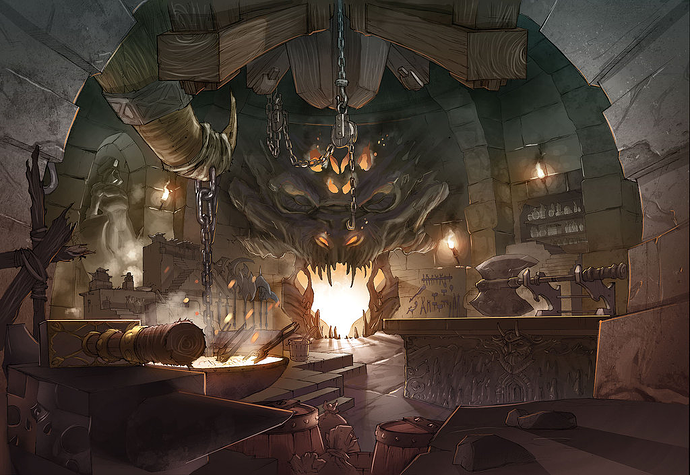 Insanely overkill example but bear with me
I pick up the mithril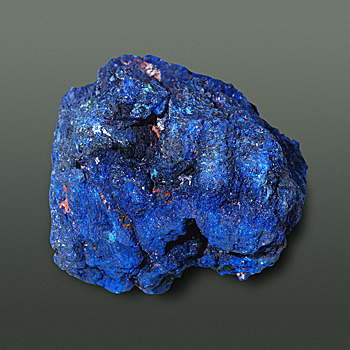 which i then proceed to place in the forge, and i then head to my energy shard container and with great care takes out my shadow shard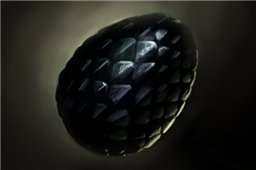 and place it next to the mithril. i make the preparations and then put both into the forge and closes it. i leave the forge because the essence is now fusing with the mithril and will be done in roughly 17 hours.
17 hours later
i head back to my forge and opens the forge and inside is the mithril lying with a dark aura around it, i take the mineral to my anvil and starts to make the sword.
after some hard work i finally finishes it and i now have a sword much stronger than what i could have ever made from normal mithril.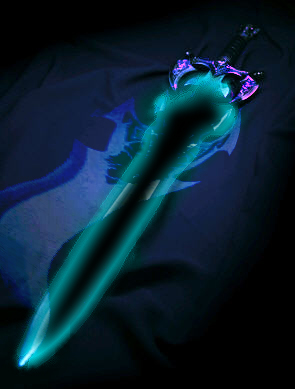 That is one of the best ways i can imagine adding it, so allowing you to combine rare energy gems/shards with normal materials to get stronger and more unique materials. so if you want to make the best sword you cannot just gather the mats and mass produce them, you need to get the materials and the fuse them, so every 17 hours you have made materials for 1 sword, making them worth more and making them more unique.
this would also go great with making elemental effects, so have elemental gems that needs to be fused with the normal material to make an elemental weapon, for example a flaming sword, an unholy magic infused dagger and so on.
Sorry for the long rant again, as i said i think you can get some amazingly well working systems using an automated timesink but they can also turn out horribly.