Immediately after making this post I did another attempt. Sometimes you just take what you can get. Forging isn't always easy but when you complain it usually listens to you a bit more.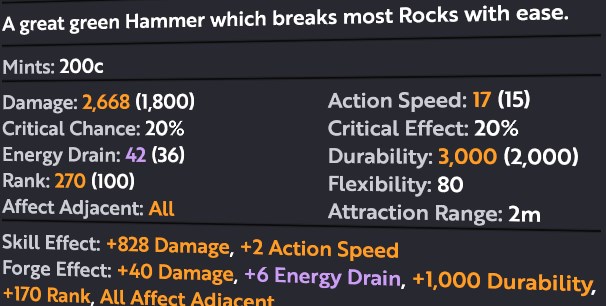 When we post on the forums, it's usually about something bad or good, but seldom posts discussing both.
I was going to post about how pissy I am right now about the RNG and forging but then looked at the bigger picture of how much I've forged before running in to a drought like this.
I've put out hundreds of aoe tools and with seldom a complaint. Generally I have between 1-4 deconstructs per session. I've gotten the damage boon / aoe / durability almost always consistently. The other day I had 16-17 sessions before I threw in the towel and quit deconstructing. Today I'm at close to the same and at my wits end. I had aoe/dmg/magnet a few times but decided to decon and go for the durability. I should have quit both times and just taken the magnet at this rate.
So I'm posting about how poo the rng is /right now/ but also posting about how good it's been to me in the past.
RNG sucks and I'm glad I never married her.