Hey Boundless Community!!!
This WEDNESDAY
The Boundless Meteor League will take place at the Guild Wars Arena on Storis in the City of Lacuna. Directions to follow…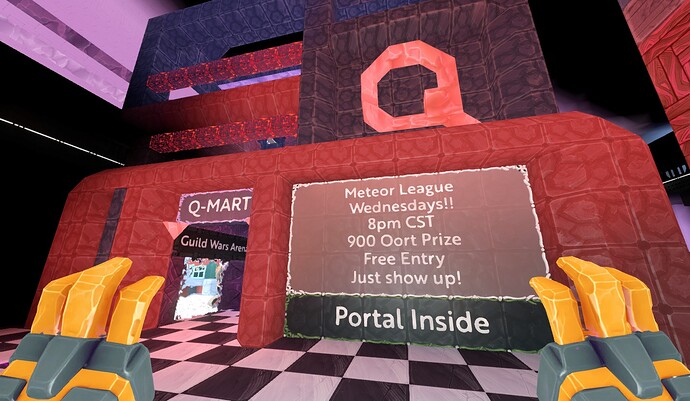 Rules:
Teams of 3 will face off against each other in an attempt to complete the most meteors successfully.
Teams will be given separate planets to hunt. ( Will start with T3 Planets)
Teams will have one hour from the start to return back to their respective podium within the Arena.
Upon return, teams must turn in ALL oort collected from meteors for judgment and the prize purse.
Winning team will earn up to a full stack of OORT STONE . (Quantities depending on returns**)
Teams will be accompanied by a referee that may participate in the hunt but NOT count towards rewards.
Teams MUST stick together until meteors drop.
Each Team will need to designate a Captain to rename signs, collect oort, and register the team early.
Registration opens for all ONE hour before match start. Teams are expected to be fully present 15 minutes before start.
With respect to the european community, be on the look out for irregular weekend matches. I apologize for not being able to offer a friendly timeframe for you, but that is something I am looking into.
Also looking to Hire Referee's for these events.
Offering 5,000c and you keep what you collect.
Referee's must be present 30min before the match and must use a supplied slingbow and supplied grapple.
Duties - Follow the teams, ensure no funny business occurs. track time for the team, track number of meteors. Report all back to event marshal.
Requirements - Max agility. Also prefer, grapple skills and general ability to navigate terrain quickly.
For Questions or reservations please ask!!
Directions;
From Ultima HUB - lower courtyard portal called "Emporium Nocturne"
From Legends HUB near Fantasy tree large portal called "Emporium Nocturne"
From P.S Hub Gravidias Te - portal called "Lacuna" (behind the Boori Portal)
All portals lead to a market, in which you will find "Q-Mart" and the portal to the Arena.
Notes:
From the Meteor tournament I have decided to limit teams down to 3 to allow for more opportunity.
Guilds may enter multiple teams.
Only 9 teams per event, or as many as the chosen tier of planets provide for.
Champions hall will eventually be erected to commemorate all victors.
Shops and sponsorship invited. Rent a billboard or set up a shop to buy all the goodies the hunters will bring back, or cater to their hunting needs.