Keep in mind this is a simple suggestion that I don't want to turn into "they should add flying machines that harvest my crops for me"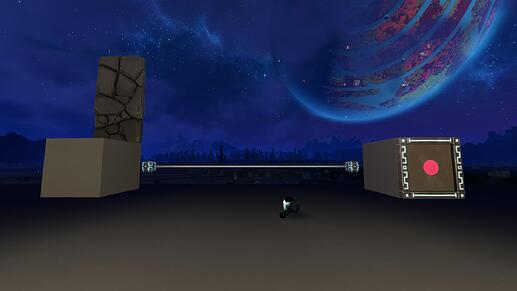 Buttons:
Adding a button to Boundless which would allow us to open doors would be a great addition. Yes it would only open doors (for now) but this would allow for some cool creations and QoL for said creations.
Example:
Instead of having the Liquid Light Switch be activated by a hole in the wall exposing the door, it could be neatly hidden behind the wall, with just a button showing. Or having my 7 Segment Display [spoiler]⌚ 7 Segment Display (choose a number, have it appear automatically) be able to be changed from beneath, not above. Which would be more engaging for people and would make more sense.
How?
The button could be placed on a block. The door could be placed on another block. Those 2 blocks could be connected via Spark Link (?). Interacting with the button would then send 1 'interaction' down the Spark Link, into the door. So it would open the door, plus if the door is 'auto-door'd the door would then shut after 3 seconds.
Limits:
The distance could be limited by the natural Spark Link limit (or similar system). Mesh Limit would also limit size. You could even add the need to have active Spark connected to the system via a Spark Generator.
Extra fun ideas that could come from this:
Showers. Water shows. Waterfalls. Opening a gap in the waterfall so you can walk through. Mini-games. You could collect mobs into a pit and then turn on a lava shower

Plus many more