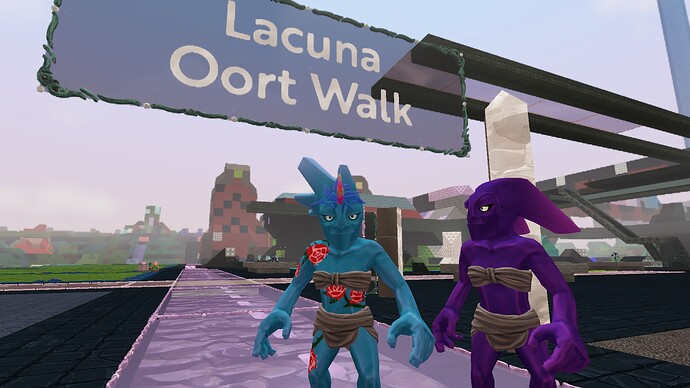 The Storis II Welcome Center and Nocturne Guild are proud to present:
Oort Walk - Oortian History
Hey Oortians! Help us tell the history of Oort. We are looking for amazing sculptures to help decorate the new Oort Walk District. Located in Lacuna on Storis II. Maybe build the totem that was wielded by a legendary Titan to travel from planet to planet wreaking havoc on our Great Cities! Or the bust of a famous Oortian Princess who defeated an Elemental meteor using only a power fist! What about a sculpture of the miner who harvested the very last Oort Seam from the now lost T7 Oort Exo planets! What would a Titan Cuttletrunk look like? Or maybe the Egg that it hatched from? Show us some great sculptures in the Storis II Welcome Centers - Oort Walk, Oortian History.
Prizes .
Grand Prize: 1 Million Coin
2nd place and 3rd Place. Forged Gear from Q-Mart!!!
*All official Contestants will receive goodies for entering.
Rules :
All plots will remain owned by Nocturne Guild and Shared with the contestants from the time of September 1 2020 to Sept 30 2020. (We are wanting to keep the amazing sculptures after the contest for people to visit)
All contestants will be allotted 27 plots in a 3x3x3 pattern
minimum prestige will be 10000
How to enter :
Contact Leper or Quazel for plot assignment. To give share rights to those plots.
Space is limited. So let us know before August 31 2020