Hopper Master Sheet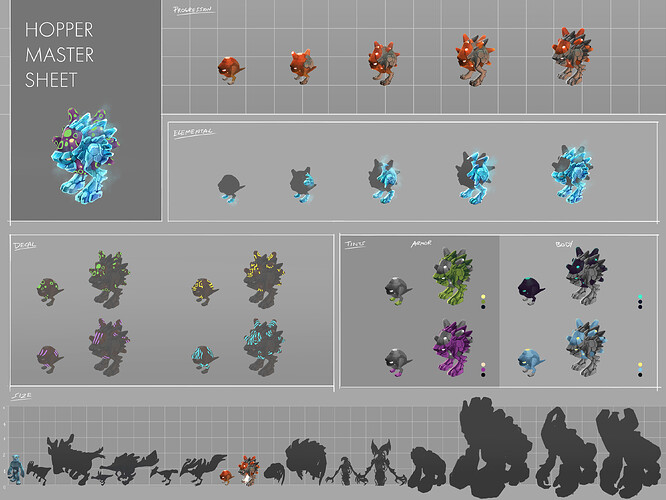 Key Visual Features:
Melee Creature (Bouncing Sandbox Bomb)
Classic Progression\Power (5 tiers)
Elemental Progression
Exotic Progression
Hopper General Description:
The Hopper is a volatile crazy little creature providing chaos and amusement in equal measure. They can be found alone or in small group hopping around the world in a passive state. When activated he turns hostile and will detonate like a bomb on impact creating a whole variety of results. If triggered, he will protect himself by hiding into a tight ball which the player can roll or grab. He can then be pulled, thrown or dragged using a grapple using the creature as a sandbox tox. When in a ball state they cannot be damaged, but if they hit a surface with enough force then they detonate.
Combat and Armour
This post will target the more combat based creatures and shine a light on the visual relationship we have to how those creature visibly relate 'Progression' with 'Armour'. This is the last post on focusing entirely on our aesthetic representation of the progression section of the creature master sheets.
High combat threat and destructive damage is best to be visibly portrayed in both Ranged and Melee Creatures as being the primary indicator of difficulty.
Armour is a therefore our visual indicator on how hard that creature is to combat.
The higher the tier of progression, the more of the creature's body is shown to be protected by armour.
Looking at both the Spitter(Ranged) and the Hopper(Melee) mastersheets you'll notice an area on each mesh covered by 'Armour'. The area covered in Armour on each creature is chosen by it's key ai behaviours and animations (in terms of combat - so not in personality like the Wildstock or Road Runner) and what we as a team want to convey about each creature visually.
Armour on the Spitter
On the Spitter it's armour is the grey section on top of it's flesh/body covering the top of his head, spine and in particular and consistently the tail throughout every tier.
Before, during and after his shooting projectile attack - he shakes his tail like a 'rattle snake mis-directing your attention before attacking from his face'!
This ties in the armour nicely to how he goes about in combat and in turn becomes a key part of his identity.
Armour on the Hopper
The Hopper is a little different because his armour is localised always in particular around his feet consistently from tier 1 onwards and thereafter his back and most of his body added on in tier 5.
This is because when you successfully get him to hide into a ball in combat, you'll be able to use him against his will as a player!
If you roll him, we plan for his momentum to be 'foot heavy' therefore always rolling to an upright position allowing him to get up naturally and hop away (retreat!).
---
So this is it for week 1 everyone! Next week, I'll finish off the series and complete the set!