Greetings, Boundless buddies! It's about time we re-introduced ourselves. We're the Cuttlepunks, grown from Early Access into a close-knit guild with insane building dreams.
We're exploring the limitless possibilities of voxel building and honing our guild organization to prepare for the ever-expanding Boundless universe. We hope to provide activities, contracts, and a helpful community for new and veteran players alike.
Request to join:
Join our guild by visiting one of our guild controls in The Colony (Kada 1).
Join us on discord:https://discord.gg/sfehC33 if you have questions or if you want to be part of our community. You'll have to get past the guard panda…

Activities:
The Cuttlepunks are always looking to keep you entertained with something new to do every week.
Event list
1st week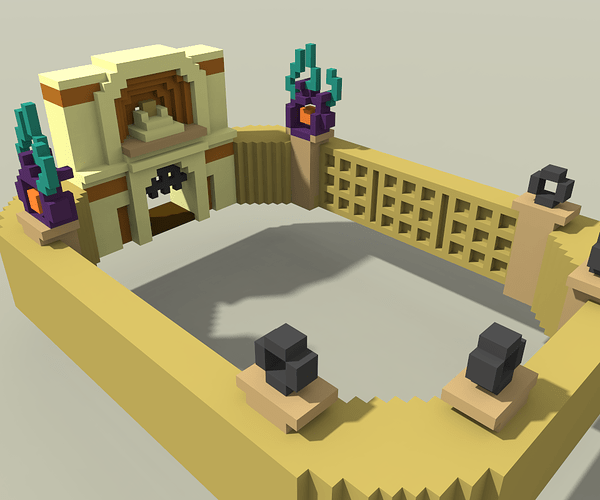 •Spleef matches
Head to Head against Boundless fearsome spleefers, 3 month commitment, 1 match each month.
Not a spleefers? Join us and watch the slaughter and bet on your favorite teams.
2nd week
•Scavenger hunt
Search the Galaxy for treasure, look for clues and discover the unknown!
3rd Week
• 50/50 Raffles
Lost most of your money in the spleef? This is your time! Double or nothing in this awesome 50/50 gold pot raffle + extras.
4th week
•Building competition
Build shite! Is boundless! The last week of every month we will announce a new chisel/building competition and also the previous month's will be closing and announcing a winner, competition will run 1 month long.
What can we say! We aim to keep you busy!
Contracts:
Miner contracts available, weekly hunts, guild-funded request basket area.
Services:
Cuttlepunks offer detailed buildings following pre-made designs or MagicaVoxel models designed specially for you.
Resource Portal Network
Cuttlepunks present the Stargates once again!!! Back in EA we held the only portal mines; now we're back offering not only mines, but surface resources on high-tier planets (T4+) as well. We got mines for each gem, plus our hubs sit near or on resources for your convenience!
Current Settlements:
There many great places to live in the Boundless Universe but if you're interested in city-living, look no further! The Cuttlepunks offer several settlements managed by yours truly.
New BlackLight Bittula
The Colony, Kada 1
Oortage lutrion
Maraboori boori
Slipstream Lamblis
We hope to see you all! Stay boundless