They really are so precious!!

I made a few as well (glad getting the rocks is so fun and easy!


), I plan on making a ton more - really, I love all of the Lovestruck items so much!!

they getting tint from flowers, glad im getting ordinary flowers from exos as well

Me too!!

I've been collecting those as well. Maybe we'll get some new colors with the next I hope! Plus the columns are really great for building IMO, they aren't too hard either, I've got some good rock colors for them. And the vases…

I mentioned in the exo thread a metal or coal would be good for kindling, but really, another T4 Lush would be great right now too, between plants and hunting.
I forgot where I got them and can't find it searching (I didn't store it in my exostorage, put it in another spot so not sure), but one of the exos (I don't believe permanent but could be wrong - didn't see it on chart though, might have missed it) had strong red coneflowers - don't know if unique but they make for a REALLY nice Oorty!

I have a few extras on them I can spare if you or any don't have that one, PM while supplies last, will hide a plinth if I get a request…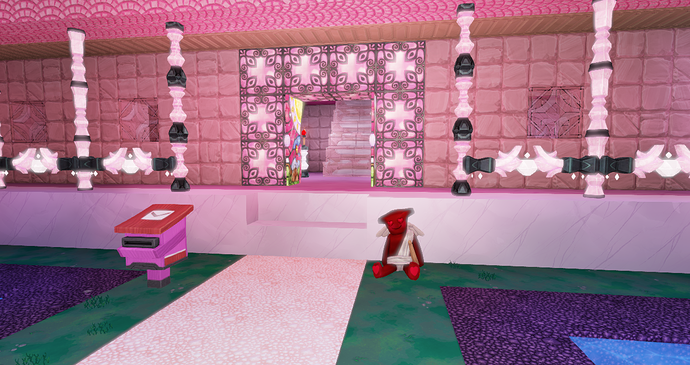 yep, awesome red tint

Can't wait to get home tonight and start crafting.

Oh nice!!

I'm going to go through all my exostorage in a bit and pick some more out to try!
Strong fuchsia was from a semi-recent exo. I have quite a few extras if you need.
Thanks!!

When I go through storage I'll pull extras if I have them of any that look good to set aside, besides those strong red ones, for any in need too.

Edit: LOL, forgot I only have permissions for my one place on my PS4 character so some of this will have to wait!
If you guys are looking for exo flower colors i've got some stock at Fronds Superstore (Alder - K'un Lun - accessible via Fireborn) and more limited quantities at Fronds Popup (Tana - DKs Mall - Stall D0). #shamelessplug
That! My favourite color for the Cherished Oorty so far.
It was an exo I think. Can't remember for sure though.
For vases I like darker reds, pale greens and blue the most. Might supply screenies when I'm home.
As for balloons, I wasn't crazy about them last year, but with all exo gleam and gleam race colors that happened since, there suddenly are so many interesting options. Already made a dozen or so

in funky tints. Black ones are the best

Ahh these are so cool!
Can the columns be sprayed does anyone know?