We need more female character models, please!

I love the purple model with the "wings" on the side of his head.

But I want to be a female character…but all we have is this purple kitty and the yellow one.
She is very minimalist right now and totally not fair

The boys can't have all the bling!
When will there be more models? I know the Devs are busy working on lots of stuff, but would love to see more cute critters that we can command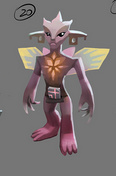 PS: I would love to look like a dragonfly!