Introduction
With this topic, I like, to sum up, my impressions from the latest releases of B< and about the new features that were added. I've split this article into different parts and I hope that I cover all critical topics. First, I want to start with my overall summary of the latest releases (for the lazy readers). After that, I like to talk about a few things in more detail.
I know this game is still a work in progress and I try to phrase every "critic" to be constructive. I also like to say that all numbers (e.g. for balance) are only [my] subjective example numbers. It's most likely that others of you have different experiences and think that other balance numbers are more applicable but please don't make this topic a discussion about "numbers". Never the less I'm happy to hear your opinions and if you share some of my impressions too.
Overall summary
As the basis for my summary, I have played approximately 60 hours in the past two weeks (overall playtime for B< is more than 300h). I also achieved nearly everything that is currently possible (all machines, [most] worlds visited a huge base with 80+ beacon plots in use, I open a store in the Therka market and so on). One of the main reasons for my huge time investment is, that I like to give a solid feedback for the devs (as you might already saw I am an active bug tracker).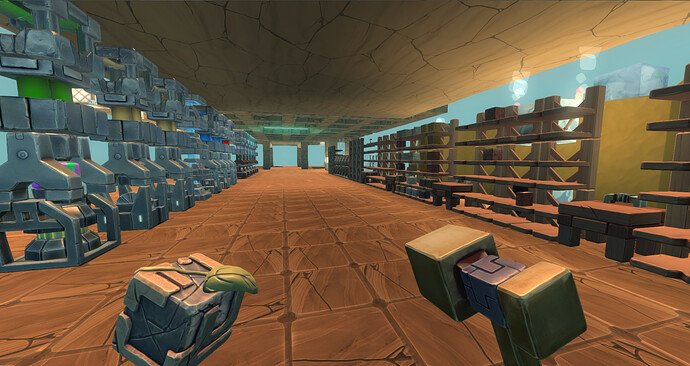 Overall I enjoyed my latest experiences with B<. The graphic style is - as it was always - really nice and the worlds have a lot of really beautiful places to explore. The user interfaces (Insofar as these are implied) are working as expected and are mostly "self-explaining". The current RPG aspects are (obviously) early work stages and don't offer a lot to explore (no skills, no improvements) and I think some of the skills need urgent improvements (more later). I also have my "problems" with the current trading system and I think if there are now "reworks" in the pipe this will be a huge drawback to me (read more later). The "smart-stack system" is in my opinion currently totally useless (read more later). The beacon permissions need rework too (there were already enough debates about it and I won't cover this topic).
Let us now have a closer look at a few topics.
Please note that this complete topic is also a work in progress and I may add additional things later (I'm currently a bit busy with my master's degree)
Section
#1

- About the UI

Most of the UI elements are, as said before, really self-explaining and I like the "artwork" style. But a few things are "bad-placed" in my opinion.

One of my main problems with the user interfaces is the "friend" section in the trading menu. It's really awkward that I need to trade with someone to become friends with him. I'd also really like to see a "friend is online / offline" function or a location mark for friends e.g. "Dummyplayer is on Tharka at [x, y, z]".

The other problem is the chat position and the chat setup. It would be great if it's possible to select the information you like to receive (e.g. "Chat only", "Chat + World" or something like this). At the moment, a conversation will get lost fast if you mine ore or do other things that "pick up" resources because both are in the same UI element. The last flaw of the current chat is the char-encoding. "special chars" from other languages (e.g. the german chars "ä", "ü", "ö", "ß") are wrong encoded and produce only "trash" in the chat output.

My last problem is the size of the status bar (HP, Air). which is too small in my opinion. I also liked the "prior" (release #146) version more than the new one (except the labels with the correct values, these are good).
Section
#2

- RPG aspects

The first appearance of RPG aspects if by far the biggest feature that has been added to the game. I like the idea that you gain skills by doing ordinary work like chop a tree or mine resources. One of my problems with the current approach is the big imbalance between a few of the professions (skills). I think the miner is by far the easiest skill to acquire. I, for example, am a miner Lvl 43 but I'm only a builder Lvl 7 and an attacker Lvl 9 (and I hunt a lot). The XP gained for other actions than mining are by far too low - or the XP gained for mining are too high. One approach solving this problem (i think the slower skills are the more accurate for long time motivation) would by to split the miner into more "sub-skill trees". E.g. the current miner skill could be split into "miner" (XP gained for mining stone, soil, gravel), "lumberjack" (XP gained for cutting trees, leaves, grass) and "geologist" (XP gained for mining resources like copper, iron, silver and so on). There might be even a 4th skill "technician" who gained XP for mining fossils and tech. This would solve the problem, that one skill is far beyond the others. Even if you are not a big "miner" at the moment this skill will mostly be the highest just because you need to set up a small shelter.

One side note is the beacon distribution. I don't like to say that there is a problem with the current setup but it's strange in my opinion to get 10 beacons plots at the x9 levels. Why not at the even tenth ? I also think that there should be an increase e.g. at Lvl 10 you get 10, at Lvl 20 you get 15 and so on. It's a pitty that you currently don't get a reward for the "extra" work you put in the skill.
Section
#3

- Trading

As said before, I think the trading is the biggest problem at the moment. We set up a small market on Therka and there are huge problems with the worth of items. Some are by far too expensive, others are too cheap because people like to help each other and trade items far under value (e.g. Tech Components) while others are far over priced for example gold ore (all ore in general). This might be a problem of balance in the resource distribution but it's also a problem of the "decentralized markets" (i know this might be good for a trading profession (trading on different worlds), but it's annoying in small spaces (e.g. on the small market on Therka). It would also be good to have something like an "auction plinth" where you can place an item and set your "minimum" value and a time for the offer. I have the feeling that a lot of items are not sold because no one really knows the value of items and most player spare "huge investments" (this is also a currency problem which I explain later). Let's make this more clear with an example.
I like to sell a power core. In the beginning, Tech Components were really rare and therefore I set the price quite high (8k). In the meantime tech components dropped in value and therefore the power core should drop too. In this case, it would be good if I were able to set an "auction plinth" and offer the power core for a comparatively low value (e.g. 1k). If there is more than one player interested they start the auction (maybe over a time span of a few days) and they offer what they think is fair. This will be repeated till someone is not longer willing to raise his offer and the competitor wins the auction. The item is now sold at a fair price (one was willing to pay) and I, as the trader, know a guidance for future offers.
The other wish would be a "listing plinth" with a table of the content of all plinth in a defined area. E.g. on the Therka market it's hard to find items - especially because of items also smart-stack and you only see one representative of the smart-stack group (e.g. Bone, Raw Meat, and Tallow share raw meat as representative). Let's also make an example:
I, as the "owner" of the market or a shop (maybe everyone can do this), set up a "listings plinth". Now the content of all other plinths within a range of 50 blocks is listed in the listings plinth. If a buyer visits the market, he can now use the listings plinth to get an overall feeling of the items offered (really great if there is also a location mark). He knows exactly where to go to get the items he needs. This would also make prices more transparent and better to calculate.
Section
#4

- Smart-Stacks

Smart-Stacks are one of my biggest problems so far. This was also because there have been a lot of bugs in this system, but it's also because it's really unhandy in everyday use. If I roam around in the world and I collect items of the same group (e.g. Bone, Raw Meat and Tallow) they stack by default. This might be a "space saving" feature but it's now also not obvious what's in the smart stack. Every time I like to know how many bones are on the stack I eighter need to open the stack (wich is a useless action) or I need to split the stacks into its components which nullify the value of the smart stack system. I also split everything in the storages because it's by far more clearly what's on the shelf.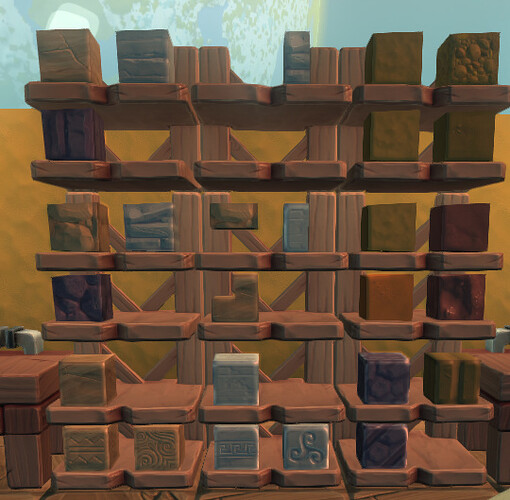 I have become accustomed to always split the stacks. The only things I don't split at the moment are timber (because I don't use it for building and therefore the visual representation is unimportant for my) and leaves. Stone is my main building material and therefore I always split it, because I can't build if there are different stones stacked in one smart stack (e.g. sedimental and metamorphic). It's even more annoying for ore and metals because I can't just drop a smart stack of ore in the furnace and select what to produce. It's, as far as my experience is right, always from a low value to high value.
If you have a smart stack with copper, iron, and gold the copper is processed first in the furnace before everything else. If I now need to produce gold I need to split up the stack again => useless interactions.
If there is a higher value, yet not revealed, I'd be really interested in the reasons for the smart stacks. But otherwise, I think they are a completely useless feature which produces more problems than usability. Why not just multiply the inventory with 9 (the smart stack size) or maybe a smaller value (average size of smart-stack groups).
The only reason why smart-stacks might be useful is for the, in the future appearing upgraded items (as far as I remember correctly in the "forge"). But if the also smart-stack, how should I know which items is used at the time ? At the moment I always have 2 smart stacks of every tool in my inventory and I don't care which is which because the are all the same value (stone). I also have 1 stack of iron and 1 stack of gold hammers in my inventory but not in the same smart stack as the stone tools because they are by far more worthy and I like to choose them only deliberately if I really need them and not by accident because I did not look at the tool all the time.
Section
#5

- Currency

The currency is one of the things I'm skeptical about. This is because of many reasons. First of all, i don't like the idea that skill progress is the only source of currency in the world. This will become a problem if you hit your max level and can't get more currency from progress and you are forced to trade all the time. This will also be a problem if a group of persons owns a huge amount of the money in a world. They pull out a huge amount of money from the economy and prices will drop dramatically because all others don't have that much money. I'd appreciate a system where you are able to also make your own currency. It could be e.g. possible to make 100 currency from the refined gold alloy (or similar for other professions).

I also don't like that coins are used to open warps. If warps are a "money sink" they should use some worthy items to open and not the currency itself. Otherwise they literally "burn" all coins till nothing is left.
Section
#6

- Beacons and machines

Could it be possible to place machines outside of beacons, please ?
It's currently nearly impossible to leave a planet if you don't have other warp conduits in your inventory because you can't place a crafting table and build new ones because this requires a beacon. If you - by accident - forget to build a beacon control you are stranded on the new world (which might be too hard for you to survive).
EDIT: This is obviously possible. Thanks at @Zerus.
Section
#7

- Overall balance of items

Overall I think a few items are currently really useless and should gain more value in the future (e.g. sand, gravel and tree leaves) while others are too important to hard to find (e.g. gold). Because the current release has a lot to do with balance it's important to name this here for future improvements.

Let's create a ranking for Items from -100 (useless - you find them everywhere and can't use it for anything) to +100 (hard to find and you need them a lot) . This ranking is for the EU worlds (i don't play enough on other servers to rate the items there).

Below 0
Sand -100
Gravel -100
Tree Leaves -50
Sap -20
Tallow -20
Silver -15
Tech Fragments -10
Around 0 (they are well balanced)
Copper
Iron
Soft Coal
Medium Coal
Timber
Stone
Above 0
Bone +10
Fossile +10
Peat +30
Tech Components +50
Silty Soil +80
Gold +80
Conclusion
Overall the latest releases are fun to play and I'm happy to see a lot more releases in the future. I'm especially hyped for the new creatures. Last but not least i hope you can share some of my impressions about the latest releases and I'm eager to hear your options and experiences.