So I've been having some conversations regarding my boundless experience since I decided to post those videos last night. Since I had gone and configured Windows' video capture I decided to gather a couple of short clips. I was tempted to post in @Huntsman's thread but didn't want to clutter it up with silliness.
Running video capture seems to be costing me 2-3 FPS. And to be honest, at these framerates that's pretty substantial.
I decided to get on my hunter and go look for a fight. Gyosha wasn't cooperating so I wound up in the forest on Biitula with a bunch of elemental mobs it was, well, awful.
14 minutes of Potato Life (skip to 10:00 for the fight):

After that fiasco, I rebooted, didn't turn on discord or any other apps, and went to Galan for a spot of mining. After a couple minutes of that I got on nightstar and took a quick run around Cephonex Merika.
16 minutes of potato life (mining at 4:00 - Trip to Merika at 8:30):

After I grappled to death I went back on planet while that last vid was uploading and things were actually going pretty smoothly, I saw 16FPS. So I recorded a couple minutes of gathering in the dunes.
2 minutes of gathering in the dunes:

I sent this pic to @AeneaGames: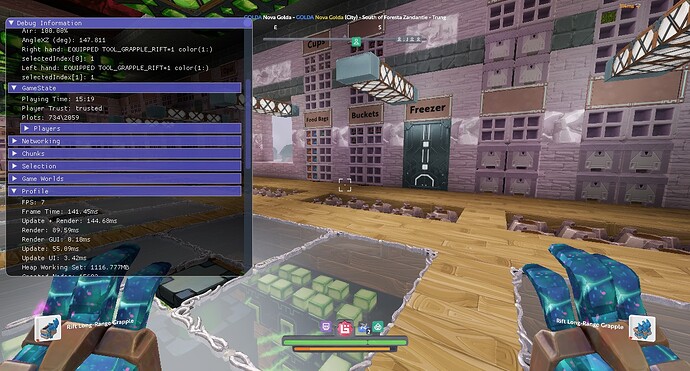 She responded with a pic of her pulling 44FPS in the same area, at 4K!
Ahhh, the potato life. Anyways for all the people that have ever wondered why I'm sort of standing around looking like an idiot at a group hunt with 30 other players on the screen at a T6 meteor, wonder no more!